Ecuador's capital city,
Quito
, is a wonderful mix of old and new that we're confident will skyrocket to the top of your list of favorite cities after your visit. We fell in love with the
historic part of the city,
with its colonial architecture and charm, and would have happily stayed in Quito forever. 
While many visitors will likely stay in the old part of town, there is also a modern area to the north that has great shopping and food. Quito in many ways is a "tale of two cities," where old and new often collide. Wherever you end up staying, though, Quito is a city that is bound to impress. We are so excited to share our guide to 5 days in Quito, plus fantastic day trips, with you! 
Centro Histórico 
Basilica del Voto Nacional
El Panecillo 
Parque La Carolina
TelefériQo

Mitad Del Mundo
While Quito is a safe city to visit, be careful when walking around and take your usual precautions to ensure your safety. All the usual rules for traveling apply: 

do not walk too much at night, especially in areas you're not familiar with; do not carry a lot of cash with you, and try to separate where you keep your cash on your person; etc. That said, we felt quite safe in Quito!

Specifically, we

do not recommend walking up El Panecillo. People do it, but our Airbnb host and other Ecuadorians we spoke with recommended against it due to petty crime, and in our opinion it's not worth the risk. 

Since Ecuador uses the U.S. dollar, it is quite easy to keep track of your spending, and we recommend that you always keep a few dollar bills with you as these proved super useful for a quick bite or a short taxi ride. Coins are also useful.

We know many of you have heard us say this a million times, but…

Altitude sickness is very real

, and walking in Quito will feel much more tiring due to the city being over 9000 feet above sea level! Try and take things easy for the first day or so. We drank lots of water and did not drink much alcohol to acclimate quicker.

Quito is a very long and somewhat narrow city, so keep that in mind if you are trying to walk to another part of town. If you're seeking other forms of transportation rather than walking, 

Quito does have a metro that is supposed to be in operation as of August 2020. There are many buses that will take you all over the city, and taxis and ride-shares (mainly Uber) are plentiful. 

As in many other countries, it's on you to

make sure that the taxi driver turns on the meter.

If the driver refuses to turn on the meter, get out of the car and find a different taxi, simple as that. 

While the weather is usually temperate,

pack for various temperatures and bring comfortable shoes!

Quito is very hilly and the old town has a lot of uneven cobblestones. The city also tends to get rather windy. 
Your 5 Day Quito + Day Trips Itinerary
Day 1: Centro Histórico + El Panecillo
Start your day with a visit to a local coffee shop or panaderia and try a traditional Ecuadorian breakfast. Café con humitas (coffee served with a traditional Quechuan cornmeal cake) is one of Quito's most delightful local breakfast traditions. Our favorite place for breakfast was Dulceria Colonial, located in the main square, Plaza Grande, which has excellent cakes and coffee– really, you can't go wrong.  
After you have breakfast, get ready for walking around one of the
best preserved colonial city centers in the world
.  
Quito's Centro Histórico is amazingly well-preserved and clearly meticulously cared for, as many of the buildings look like they have been maintained and restored with a lot of love. In our opinion, Quito's old town was cleaner, more welcoming, and much better maintained than, for example, Bogotá's La Candelaria historic area. We were in awe of all the beautifully colored buildings and the Spanish colonial architectural style that makes this area any traveler's dream.  
Be sure to check out the many churches here, including: Iglesia del Sagrario, Iglesia del Carmen Alto, Iglesia de San Francisco and Iglesia de la Compañía de Jesús.
If you're in the mood for a museum, we really recommend the Museo de la Ciudad. Housed in an old 16th-century hospital, it's an excellent introduction to the history of Quito, starting in pre-Colombian times.
Tip: A useful way to orient yourself is by using the Centro Histórico's 5 plazas as guiding landmarks: Plaza del Teatro, home to the eponymous Teatro Sucre; Plaza de la Independencia, arguably the main plaza, with its large obelisk; Plaza de San Francisco, home to the church of the same name; Plaza Santo Domingo, also home to a large church as well as Fray Pedro Bedón Museum of Art; and the relatively new (completed in 2016) Plaza Huerto San Agustín.
While you could easily spend all day walking around this historic part of town and ooh-ing and aah-ing over all the buildings, once you start feeling hungry you should consider grabbing lunch at a nearby local restaurant or market. 
Quito, like many other Latin American cities, has fantastic, super-cheap lunch options. Many restaurants have lunch specials for as low as $2-$3 each, for an enormous meal. These lunch meals, called comida corriente, often include a protein, like fish of the day or meat, coupled with rice and vegetables, and sometimes even a dessert. While a distinctly no-frills experience, we loved eating at the Mercado Central near the Centro Histórico, and were so impressed by the food stalls serving up delicious platters! You really can't go wrong with where you choose. 
In the afternoon, you should definitely walk up to the amazing Basilica del Voto Nacional to see one of Ecuador's best churches. This gothic-style wonder is a sight to behold! We actually stayed nearby, so we got to walk by it several times and admire its beauty. Going inside is highly recommended, and should you choose, you can even climb upstairs to one of the towers for expansive views of the city that are really exceptional.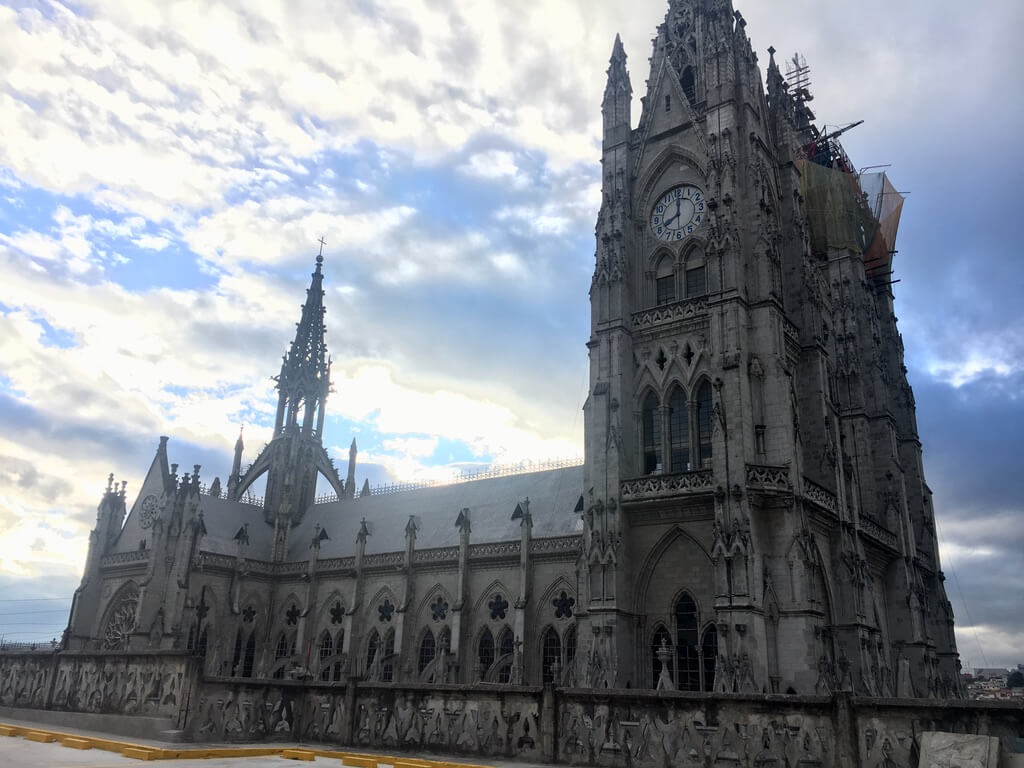 From here, take a taxi or ride-share to El Panecillo. As we mentioned above, it's not advised to walk here, as it is a known tourist destination and the risk of pickpocketing and petty theft is high. A taxi ride is very inexpensive, and there's a lot of taxis at the top for when you're ready to come back down. Remember to ask them to turn on the meter.
El Panecillo is a 200-meter high hill. Panecillo means "small piece of bread," due to the shape of the hill. It is best known for its expansive views of Quito and the beautiful statue of the Virgin Mary standing on a globe, called "La Virgen del Panecillo" at the top. 
After exploring El Panecillo, if you're feeling a bit tired or winded due to the altitude, it's a good idea to take a rest before dinner. Remember to take it easy your first few days in Ecuador, or you could get very ill! 
Speaking of dinner… If you want to have one of the best views of Quito and do not mind splurging on dinner you should check out Vista Hermosa in the Centro Histórico. Here you will enjoy dining al fresco accompanied with excellent views of El Panecillo and the surrounding locales. Another great, but pricey, option is El Ventanal. Note: Both of these places were out of our budget, so we did not end up eating there, but they were recommended by our Airbnb hosts. The pictures look incredible and Quito lit up at night is a sight to behold.
If you're in the mood for an evening stroll, check out the La Ronda neighborhood, built in the 19th century. For many years it was known as Quito's "bohemian" neighborhood, but it has recently been extensively renovated to show what it likely looked like when it was first built.
Day 2: Mitad del Mundo + La Mariscal
Start your second day in Quito early with a quick trip up to the Mitad Del Mundo (or Middle of the World), technically not in Quito proper but quite close by. Here, you can see "the tale of 2 equatorial lines"… That is, where they thought the Equator was, and where it actually is, about 250 meters away. Despite being a big tourist spot, we were very pleased with the whole experience and would say it's a must-see, if only for the experience of putting one foot on each side of the Equator. You can read all the best tips about Mitad del Mundo (including how to get there, what to do/see/prioritize, and more) at our dedicated post here.
Once you have had your fill of the Mitad del Mundo, head back into town for a late lunch. We are so excited to share our recommendation here, courtesy of our ride-share driver. We were chatting with him, asking him questions about Quito and his family, and the conversation turned to restaurants. 
He gushed about his favorite spot for seafood, and told us that it was just north of Plaza Foch, at a place called Siete Mares. Taking his word for it, we promptly asked him to drop us off there instead, and we proceeded to have the best meal we had in Ecuador, and arguably one of the best meals we've ever had.  
There are tons of options, but after much deliberation, we ordered ceviche mixto, encebollado, and camarones al ajillo.  Everything was so flavorful and fresh! We loved the camarones as they were juicy and seasoned perfectly. The ceviche and encebollado were both world-class as well.  You have to try encebollado while in Ecuador and we highly, highly recommend Siete Mares.  The prices were not cheap by Ecuadorian standards, but still fit within "normal" ranges for meals out. Furthermore, we were the only non-Ecuadorians there so it definitely seemed like a local haunt. 
Fun fact: We actually loved the encebollado specifically so much that we wrote about it for a blogging collaboration on soups around the world! You can check it out here. 
Walking off this massive lunch was definitely in order, so we meandered our way through the La Mariscal neighborhood. This area is backpacker central, and definitely a "gringo's paradise" as there are bars and restaurants around every corner, clearly catering to tourists. 
Plaza Foch is the epicenter of the neighborhood, and is cool to walk through… but as you can likely expect, not our scene. We saw more Americans here than in our whole time in Ecuador.  If you are looking for sports bars and raucous nightlife this is your spot, and there are lots of hostels here. We recommend staying in the Centro Histórico, but there's something for everyone in Plaza Foch, too.
In the evening, check out Bandido Brewing (below left photo) or Cafe San Blas for a fun time! As for us, we opted to go to bed early due to a really big Day 3, which of course we'll share next!
Day 3 and Day 4: Volcán Cotopaxi and Laguna Quilotoa Day Hikes
On Day 3 and Day 4, we decided to book 2 day trip hiking excursions. On Day 3, we hiked the breathtaking (literally… that altitude, though!) Cotopaxi volcano, and on Day 4, we hiked down to the waterfront and back at the Laguna Quilotoa, a crater lake. We had an absolute blast on both hikes, and the experience was definitely up there in the best days of our lives. 
If you want a thrilling day trip that you will not forget, we think that Cotopaxi can't be topped, and the Laguna Quilotoa is definitely a contender, too.
However, we found that both experiences left us with lots of tips and tricks to recommend, so we decided to write a separate post with all the details you need. You can check it out here. 
Note: the altitude on both of these day hikes was quite daunting. Looking back, we don't recommend doing this on day 3 unless you're very crunched for time like we were. While we would rank the physical challenge level of both hikes as moderate in theory, the altitude made them both rather more difficult in practice. Remember that Quito and its surroundings measure up at over 3000 meters (9000 feet) above sea level, and the highest point of the Cotopaxi hike, the glacier portion, puts you at 5000 meters. This is no joke! 
Our last day in Quito we had left somewhat blank as we wanted to have the option to go back to any place we previously visited or check out a new destination.  
We ended up walking around the northern part of Quito, in the modern section of the city.  We ambled around the Parque la Carolina and window shopped in the fancy Quicentro Mall, just for fun.  
Another fun option for the day is to check out the sprawling Parque Metropolitano de Quito or ride up the TeleferiQo, a huge funicular.
After grabbing one last coffee at our beloved Juan Valdez (an addiction we first gained during our time in Colombia which has not abated since) and packing up, we headed to the bus terminal to go to Baños de Agua Santa, usually just called Baños. 
Baños is a must-visit for adrenaline junkies, waterfall lovers, and adventure-seekers of all ages, budgets, and risk-propensities, and we can't recommend it enough. For a guide to biking La Ruta de las Cascadas in Baños, see here. For a more general, "top 5" style guide to your trip, see here.
Despite really looking forward to our few days in Baños, we were actually pretty devastated to leave Quito. Even though we only stayed 5 days, we absolutely fell in love with the city and even joke about moving there. Nonetheless, we know we will be back in some form, someday– hopefully soon! 
We hope you'll share ALL your Quito stories with us in the comments! We are so nostalgic, and would love to hear your experiences. For other Ecuador recommendations, such as Las Cajas National Park and Cuenca, check out our Ecuador landing page.
To save this guide for easy reference on Pinterest, click here: