Like a wine pairing… on your bike!
We are so excited to share with you the 5th (and last, for now!) installation in our Boston Bike Pairings series.


For those of you joining us for the first time this week, here's the deal. A lot of people love pairing a certain cheese, fruit, or dish with wine, right? Well, we thought we'd add a little twist.
Over the course of the last few weeks, we've been releasing a series of what we're calling "bike pairings."
We introduce you to our favorite bike rides in Boston, with a twist. Each ride is mapped out to include a special treat: ice cream, doughnuts, breweries, and more. Enjoy!
This week's pairing features a city ride through downtown Boston and the Seaport district, paired with our favorite brewery experience in Boston, Harpoon. 
This ride (like a few of the others) can be as long or as short as you'd like. You can extend it all over Boston, or stop whenever you get tired. We do want to mention that this bike ride is a bit trickier than the others (saving the most advanced for last!) not because of terrain, but because most of the ride is spent in highly-transited areas. 
We would definitely categorize this one as a "city ride," and while the road is largely flat, you will be riding almost the full time on roads shared with other cars (insert probably true stereotype about Boston drivers here), and biking in traffic is definitely not something we recommend for people who haven't biked in a while or who get really nervous around cars. Once you enter the Seaport area, there is also a lot of construction to keep an eye on as you go.
However, if you feel up to it, this is a really fun ride and ends at one of our favorite breweries– Harpoon!
As for us, we started in our neighborhood (Brookline) and did a round-trip meandering ride to Seaport and back, totaling about 12 miles in total. Here's a one-way map: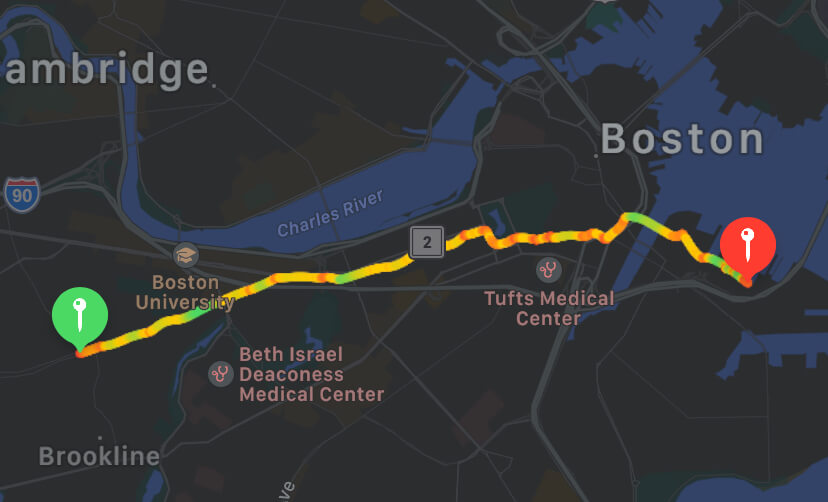 Once you've biked around downtown and the surrounding areas to your heart's content, lock or station your bike in the Seaport District (if you're on a Blue Bike, the closest dock to Harpoon is Congress Street and Northern Avenue.)
The Seaport is an intriguing part of town. It's considered Boston's newest neighborhood, located right on the waterfront, with the Fort Point Channel and the Boston Harbor comprising two of its sides. In the past, it served as a major shipping hub, but the area fell into disrepair, resulting in a lot of abandoned warehouses and some fisheries and seafood markets (which still remain today.) 
Interest in revitalizing the area came about near the time that the "Big Dig" was completed in 2007 (an enormous highway reconstruction project in Boston which took almost 20 years to complete and remains the most expensive highway project in U.S. history.)  
Today, the Seaport is a bustling area filled with skyscrapers, upscale restaurants, and luxury developments. However, it is not without its controversies. The land the district is built on– filled land from the 1800s– isn't considered particularly stable, and many scientists fear it could be underwater by the end of the century due to climate change. The area is also not very diverse, and the high price of housing has caused some to argue that development of the area has made the Boston housing crisis worse.
The area is certainly ultra-modern, which is a design choice that many people love! We are very partial to Boston's more traditional architecture (in the Beacon Hill and South End neighborhoods especially), but we love recommending that visitors see the different architectural styles.  
While you can take the MBTA's silver line (a bus line) to the Seaport, it's really fun to bike around and take in the different architecture. As we said before, the architectural style is really, starkly different to much of the rest of Boston, and there are also lovely views of the waterfront. 
After you dock your bike, it's a quick walk over to Harpoon!
Harpoon is one of our favorite breweries in New England, and a must-visit for those traveling to Boston. They have a beautiful (and huge!) beer hall, and lots of neat flavors of beer to try. Even better, they use their leftover beer byproduct to make mouthwatering pretzels. The parmesan flavor is a personal MVP. 
Harpoon opened in 1986 by 3 self-described "college buddies", and is one of the "OG" New England brewers. They were one of the first to release an IPA in the 1990s, and their IPA was an instant hit– becoming their best-known, best-selling, and flagship beer. If you haven't tried Harpoon's UFO IPA, with its ubiquitous white-and-goldenrod can, this is a must while you're here. They are also, remarkably, employee-owned!
We really recommend taking the tour— it's $5, and it ends with a period of "unlimited samples" for a set number of minutes. We were pleasantly surprised about how much beer we could sample in this period! A few favorites are Flannel Friday, Boarding Pass, and the delicious new flavor, Georgia Peach (pictured above.) Note that many of Harpoon's beers are seasonal, and temporary. They have lots of fun flavor combinations, and have even partnered with Dunkin' for a coffee stout. 
After the tour, sit a spell at the long benches, and relax for the afternoon. This is a great place to go with friends or a group, too. 
If you're feeling hungry for more than a pretzel at this point, one of Boston's best-known places for lobster is nearby– Yankee Lobster. Check out our lobster roll model, Tegan's mom, enjoying hers below!
Yankee Lobster is a great place to get a fresh, no-frills lobster roll. It is definitely not a fancy place, but the lobster is super fresh and their other seafood options are delicious, too! If you sit outside on the patio, there are nice views of the waterfront area. 
That's all for now on the bike pairings, folks! We hope you enjoyed our five-part series, but it's starting to get chilly already here in Boston, so the summer fun is ending swiftly! But don't worry, we'll be posting lots of fun autumn content starting shortly. If you're in the market for the best hikes for leaf-peeping, Halloween fun in Salem, or other fall activities in New England and beyond, we've got your back.
To visit our other Boston Bike Pairings, check out the landing page here.
To save this ride for later, don't forget to pin it, below!