Commonly thought to be part of Boston, Brookline is in fact not incorporated, retaining its independent town status despite being surrounded by Boston city limits.

As residents of Brookline, we feel very connected to Boston politics, but are technically represented by the Brookline Select Board (rather than the Boston mayor and city council.) This style of government, called the New England Town Hall style, is totally unique to the region and (in our opinion) could use a bit of modernizing.

Brookline is home to a large Hasidic Jewish community, as well as many Russian immigrants. There are tons of kosher bakeries, butcher shops, and synagogues, as well as Russian-language bookstores and groceries to explore. 
Brookline is a lovely place to spend a day, often overlooked by all Boston has to offer. We definitely recommend spending a day walking around and exploring Brookline's parks, shops, and restaurants. Enjoy our 8 top things to do in Brookline! 

Note: if you're short on time, you can spend a half day in Brookline paired with a visit to the Fenway-Kenmore area and downtown. A quick walk, bike ride, or train ride down Beacon Street will take you to the Fenway Stadium area, where you can check out where the Red Sox play! You can also check out the Emerald Necklace and Fens nature preserves nearby and walk or bike along the Greenway. Continuing further into town, you'll be downtown at the Boston Common in no time. Check out our many, many guides to Boston for all sorts of tips here.
Top 8 Things to Do in Brookline, MA
1. Start your morning out right at Kupel's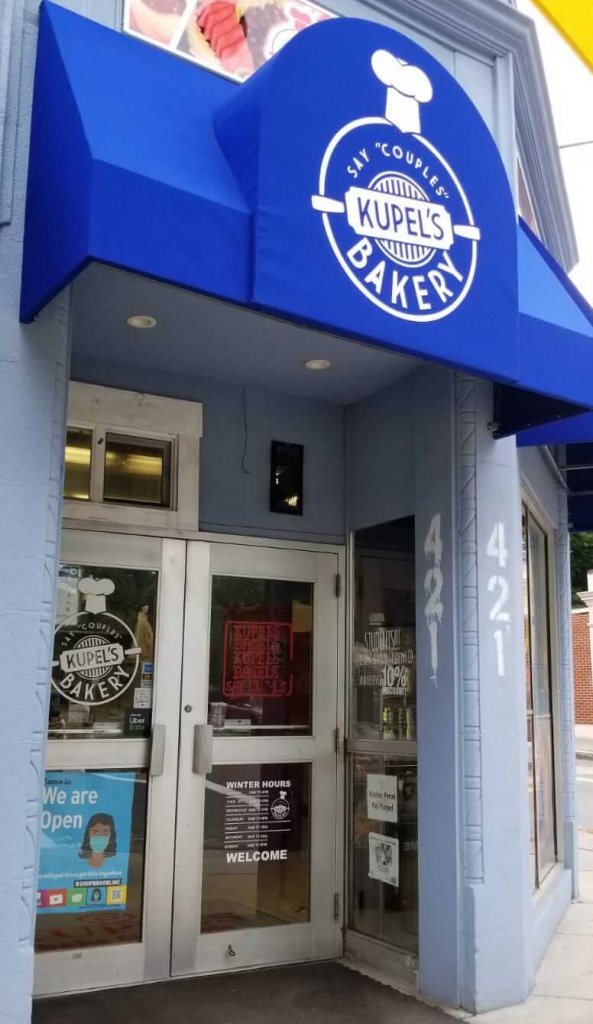 There's no better start to your day than a delicious, home-made bagel at Kupel's Bakery (pronounced "couples") and coffee from 4A Coffee, conveniently located across the street from each other. 
Kupel's is said to be the best bagel place in New England, and even one of the best in the country. We especially love their pumpernickel bagels, or any of their whole wheat selections (sesame, everything, poppyseed, etc.) They also have tons of pastries, and everything is kosher. 4A was originally founded in Kazakhstan, and has a variety of tasty small-batch roasts. 
If you're in the mood for something a bit more substantial than a bagel or pastry, Zaftigs Deli has excellent brunch options– it's so hard to choose! All their breads are made in-house, and their lox and challah bread French Toast are absolutely delicious.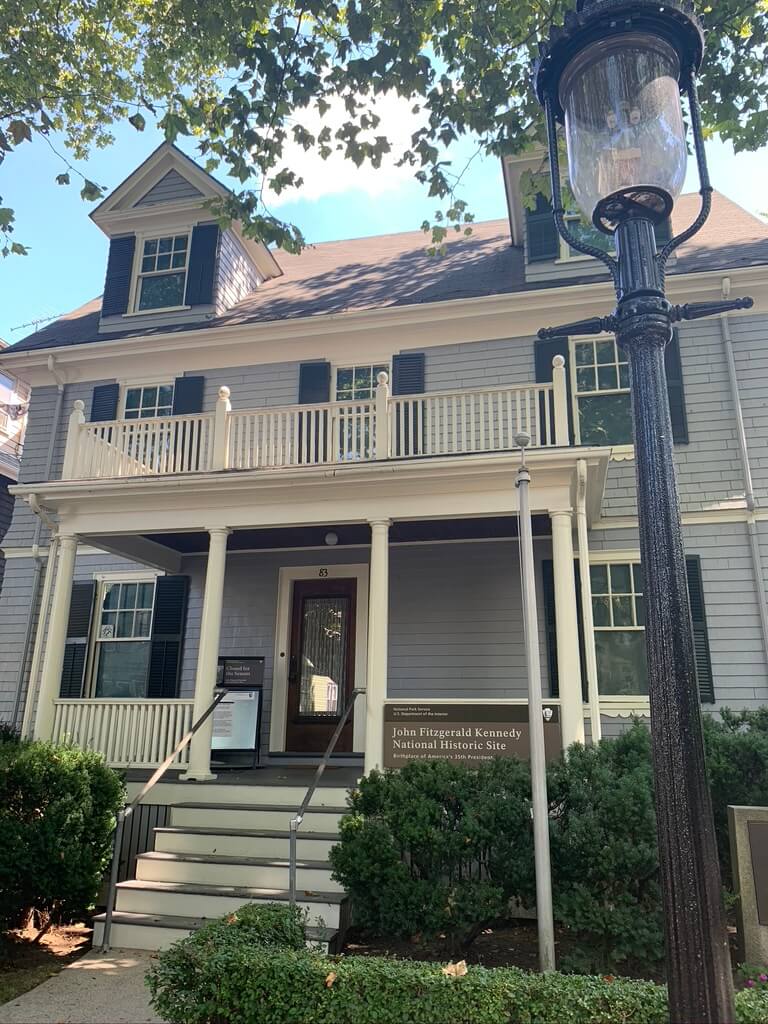 After breakfast, walk over to nearby 83 Beals Street, for a visit to the house where John Fitzgerald Kennedy, or JFK, was born in 1917. JFK was the 35th President of the U.S., and the home is now a National Historic Site. The Colonial Revival-style home is beautiful, and the interior was recreated by Rose Kennedy, JFK's mother, to share with visitors how it looked at the time of JFK's birth. The audio tour, which you can join by dialing 617-992-9172, is narrated by Rose Kennedy as well. After finishing the house tour (also available in Spanish, German, Japanese, and French), you can continue with a tour of the rest of the neighborhood. 
3. Explore Coolidge Corner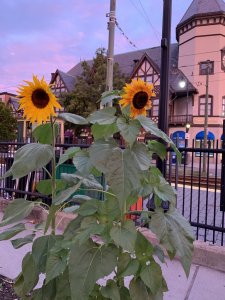 Walking back onto Harvard Street, there are a variety of little shops to peek into or window shop near Coolidge Corner, Brookline's main hub and the best place to take the MBTA C-line into town. 
Don't miss shopping local at Brookline Booksmith, a family-owned bookstore that has been open here since 1961. They have all the newest hardcovers, but also a great selection of bargain new and used books. 
If you're ready for lunch by now, there are several options. 
Check out Bab Korean Bistro for quality Korean food,
Shan-a-Punjab (closer to Commonwealth Avenue, but still walkable) for Indian or buffet, or even
Trader Joe's for pre-packaged sandwiches, wraps, or drinks.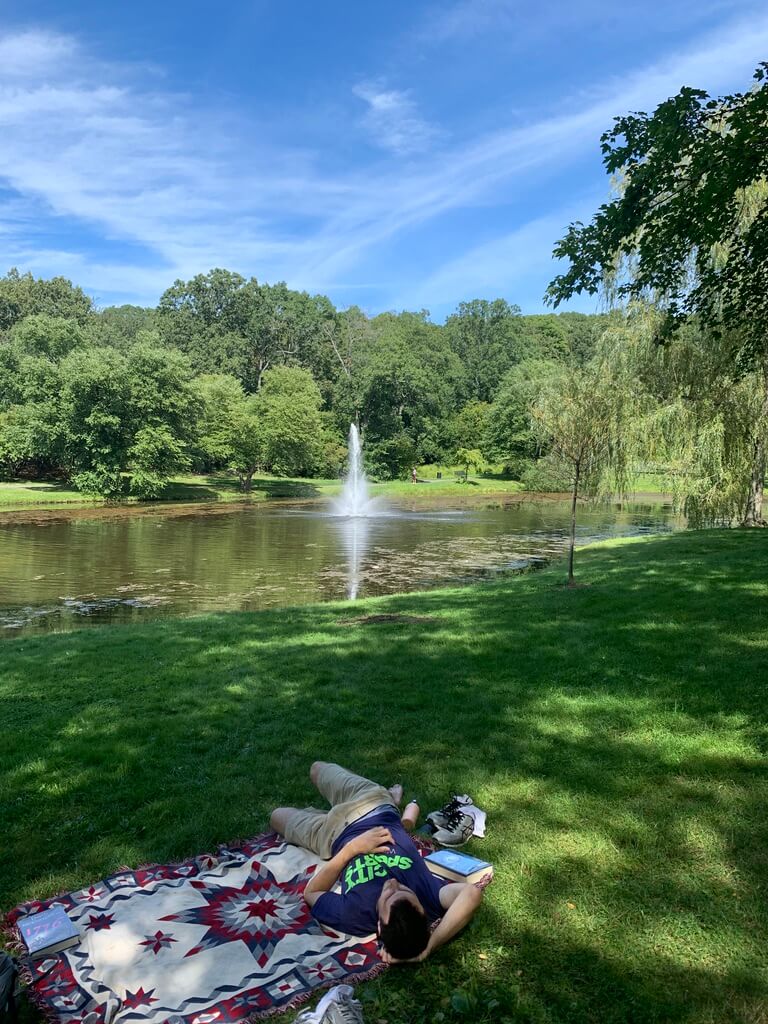 Wherever you choose, consider getting takeaway and eating picnic-style at Larz Anderson Park, Brookline's biggest park. Once owned by Larz Anderson and his wife Isabel Weld Anderson, the land was bequeathed to the town upon their deaths. The Carriage House now is home to a really neat Museum of Transportation, with a gorgeous collection of antique cars. The grounds are enormous, with lovely walking paths, shady trees, and a gazebo to explore.

(Note: if you've visited the Anderson House in Washington, D.C., now home to the Society of the Cincinnati, this land was owned by the same couple.)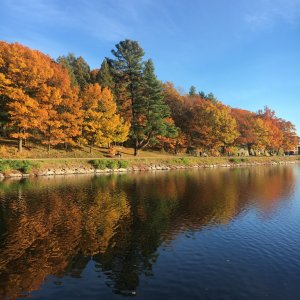 In the afternoon, go for a walk or bike around the newly-reopened Brookline Reservoir Park and Gatehouse, and nearby Fisher Hill Reservoir Park. Fisher Hill is one of Brookline's most ritzy areas, and was originally designed by famed architect Frederick Law Olmsted (for more Olmsted genius, check out our post on biking the Emerald Necklace, his most famed creation.) We visit these reservoirs multiple times a week to meander around and get some exercise, and the views of the water and the trees surrounding are so pretty. There are also lots of ducks, geese, and other critters splashing around to enjoy!
Though not technically in Brookline, another beautiful reservoir nearby to explore is the Chestnut Hill Reservoir (right near the Cleveland Circle MBTA stop on the line between Brookline and Chestnut Hill.) It's easy to pair a loop around the reservoir with a visit to the Boston College campus nearby.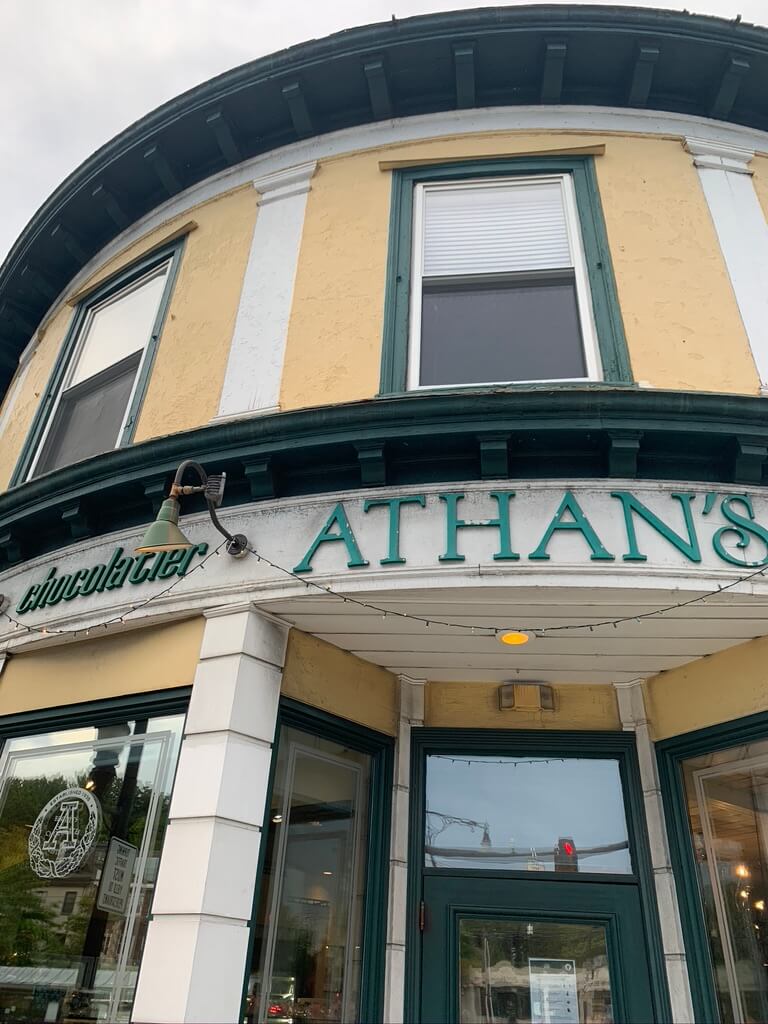 If you're ready for a snack by now, head back to Beacon Street and check out Athan's Bakery, a Greek patisserie and bakery with sister locations in Kalamata, Greece. In addition to their amazing Greek pastries, you can't go wrong with any of their chocolate offerings. 
7. A Movie Experience to Remember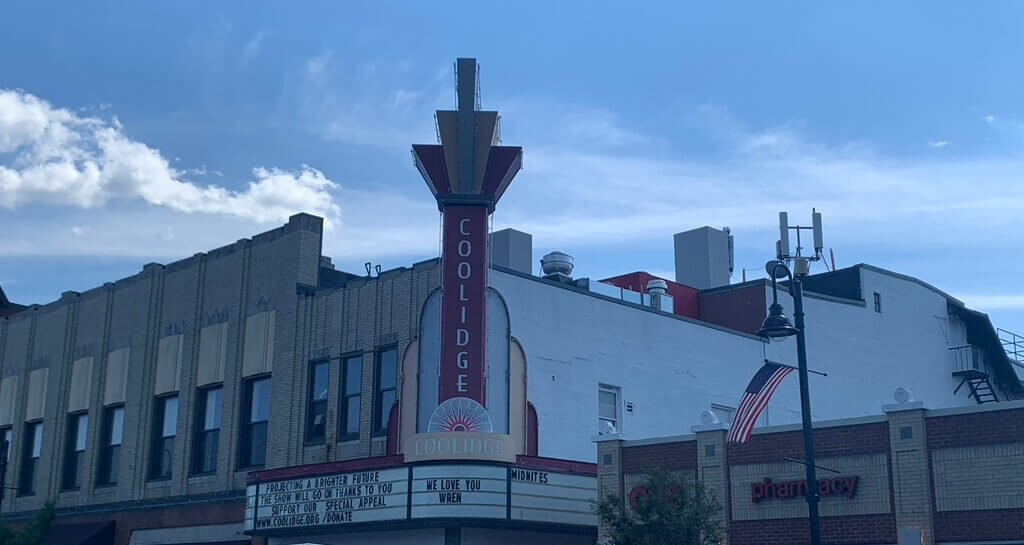 Catch a late afternoon or evening movie at the Coolidge Corner Theatre, an Art Deco "movie palace" dating back to 1933. It is one of the few theatres of its kind left still in business, and at any given time is showcasing "the finest international, documentary, animated, and independent film selections and series." This is truly a treasure! If you're a night owl, check out their "After Midnite" Series, featuring lots of creepy cult classics, often in 35mm. 
8. Dinner + Drinks in Washington Square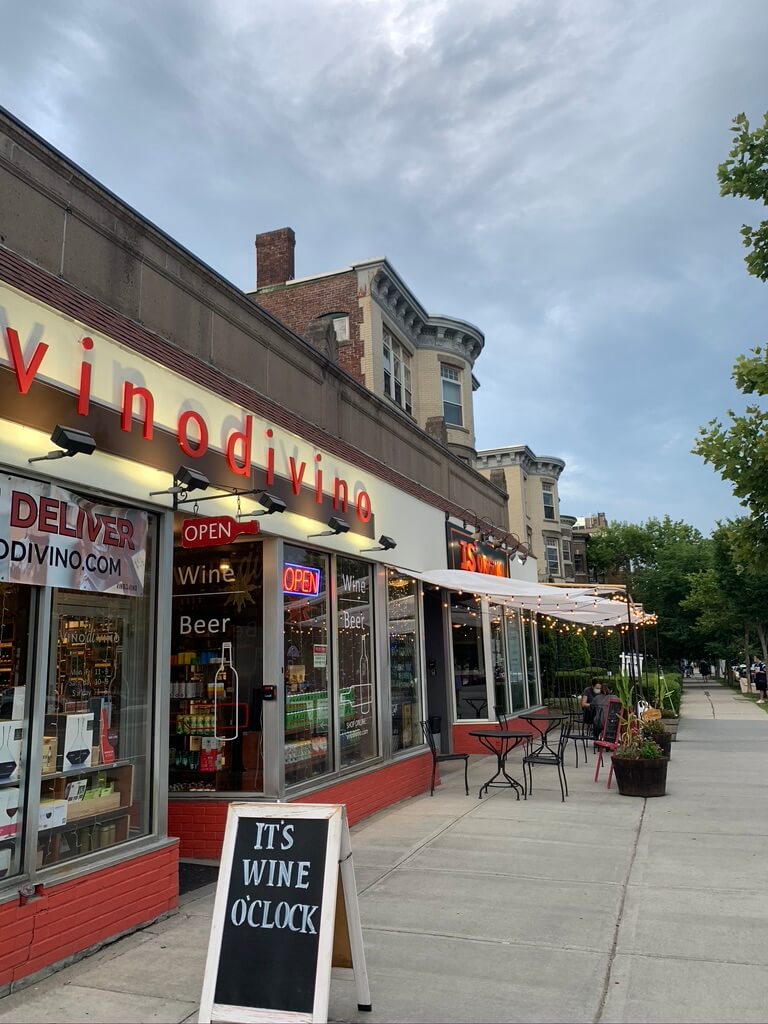 For dinner + drinks, there's no better place than Washington Square. 

If you continue past Athan's on Beacon Street, you'll see a wide variety of cuisines, as well as wide sidewalks for evening strolling. 

For a more casual dinner, the pizza at Stoked is quite good. For upscale margaritas and tacos (read: pricey!), check out Burro Bar. After dinner, definitely check out Publick House or The Abbey for a nightcap. A bit further up, there is a mega-popular Barcelona Wine Bar location with beautiful outdoor seating.