Portland, Maine may be the state's  most populous city, but it is (surprisingly enough) not the state's capital, with that distinction going to Augusta further north. However, Portland punches above its weight for a city with less than 70,000 residents, and you will certainly be impressed by the caliber of food and attractions on offer here.
With its quaint Old Port area, dining and city walks along Commercial Street, and the fantastic parks, lighthouses, and outdoor spaces, it is pretty clear why Portland is such an excellent travel destination. Alex lived in Maine for four years as an undergrad at Bates College, and yet each visit to Portland brings lots of excitement and new discoveries. 
Read on for our guide to this gem of a city, perfect to experience in a weekend. 
But first, a few quick tips to plan your visit:
Location:

Portland is located fairly far south in coastal Maine, about 2 hours north along the coast from Boston. While it 

does have its own airport, it is quite small– many visitors opt to drive in from out of state. There are airports in Boston, Manchester, and Providence (Rhode Island) that aren't too far of a drive. 
Food:

While lobster may be what most visitors associate with Maine, stay tuned, because there is a burgeoning culinary scene in Portland that is a foodie's dream. That said, you should plan to check out the lobster, too– it's world-famous for a reason!

Weather:

Due to its pretty brutal winters, most travelers visit Portland in the summer and autumn, and the hotel prices reflect this– often ranging upwards of $300 per night, with Airbnbs being fairly pricey, too. Keep this in mind if you want to visit in peak season. If you're not too swayed by the cold, Portland's coastal status makes it a little more temperate than further inland, so consider shoulder season travel.

Our top recommendation:

be sure to check out the famous and lovely 

Portland Head Light in nearby Cape Elizabeth for one of the most iconic places in New England. This lighthouse is said to be the most-photographed lighthouse in the United States, and it is beautiful in all seasons. Keep in mind that it gets extremely crowded in the summer.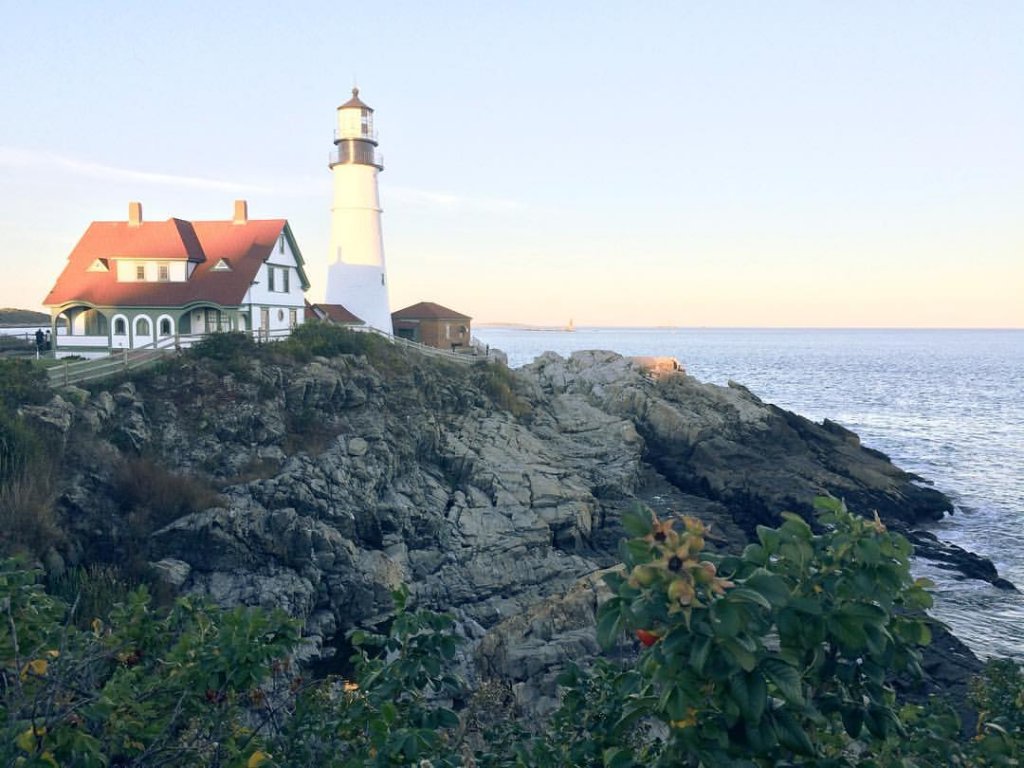 If you arrive in Portland in the afternoon, plan for your first stop to be the Portland Head Light. As mentioned above, this is arguably the most famous lighthouse in all of New England, and is said to be the most photographed lighthouse in all of the U.S.  
Dating back to 1791, this lighthouse has a storied history, which you can learn about in the adjacent museum. It is the oldest lighthouse in Maine,  and has roots way back to when Maine was still a part of Massachusetts! While you cannot go inside, there is plenty to do exploring the grounds. Located a bit south of Portland itself in Cape Elizabeth, the lighthouse is surrounded by a beautiful park, Fort Williams Park. We enjoyed seeing the old military batteries and walking along the shore.  
After you have explored Fort Williams Park to your heart's content, you might be feeling hungry. For your inaugural night in Portland, why not sample some Maine lobster? Our favorite place to get lobster is coincidentally also located in Cape Elizabeth, making it the perfect addition to your venture to the Portland Head Light. Trust us on this one– it's the real deal. 
The Lobster Shack at Two Lights is everything you could want in a lobster dinner– the full experience, you could say! The inside of the shack is exactly what you imagine a lobster shack to be like, complete with fisherman's tools adorning the walls and cozy wood paneling. The nautical paint and checkered red-and-white tablecloths really add to the atmosphere, too. If you want to sit outside, they have lots of picnic tables set up so you enjoy looking out over the beautiful Casco Bay, all whilst eating the best lobster around. 
We decided to get the lobster dinner (1.5 pound lobster with a side of French Fries and coleslaw), as it is such a quintessentially "Maine" experience to eat a whole lobster drizzled with melted butter! Their lobster rolls and the Fisherman's Plate looked delicious as well, though– perhaps next time. And yes, they do give you a bib to crack into your lobster! Don't miss the whoopie pies for dessert, Maine's "official" dessert. 
If you are up for an exciting, adventurous morning check out the Portland Schooner Co. for a schooner ride around the scenic coastline. This two-hour journey is an epic way to see the coast of Maine, as well as Portland from a different angle. They use historic wooden schooners called windjammers, and this is a very fun way to spend your morning!  
If two hours on a boat does not sound like your cup of tea, then we suggest a brisk morning walk around either the Western Promenade or the Eastern Promenade on either side of Portland for beautiful scenery. We love both of. these parks– the Western Promenade with its stately homes and views of the surrounding area, and the Eastern Promenade, a former rail corridor turned grassy city park. 
Next, head downtown to see the heart of Portland. The "main street" in town is Congress Street, and there are tons of cute shops for window shopping and cafés to pop into for a coffee or quick bite all up and down the whole drag. There is an old-school feel to much of Portland's downtown, like the best parts of past decades are still flourishing here. While walking around downtown, be sure to spend some time in Monument Square and to snap some pictures of Portland City Hall.  
Possibly Portland's most picturesque spot is its Old Port. With its cobblestone streets and abundance of shops, you could spend hours here exploring. Commercial Street down by the water has lovely waterside views, and lots of lunch options, such as . 
Whatever you do, do not leave the Old Port area without grabbing a gelato at Gelato Fiasco. This place is an institution in Portland, and for good reason. Our favorite flavor is the mascarpone pistachio caramel– absolutely mouth-watering (and those of you who have been with us for a while know we are major ice cream fans!) They have tons of flavors, though, let us know which ones you've tried in the comments!
After having lunch (and gelato) in the Old Port, a good option for some afternoon culture is to stop by the Portland Museum of Art.  Despite not being the region's most-renowned museum, there is still much to see here and you will be impressed by the breadth on display.  We aren't the biggest lovers of modern art, but even so this museum is worth your time.  
In the afternoon, for beer fans— just outside of Portland is one of the best breweries in the country, Allagash Brewing Company.  Known for their delicious take on the Belgian-style beer, Allagash has cemented itself in the top tier of craft breweries locally and nationally. Visiting their Portland brewery is always a treat, as you can take a tour of their taproom and have a drink in their tasting area.  Allagash White is one of Alex's all-time favorite beers (a tough choice, to be sure), so coming to the brewery was like a dream come true!
While you may be getting a bit tired from this busy day out by now, don't miss an opportunity to check out Portland's culinary scene! There are so many restaurants to recommend here, but after much effort we have narrowed down a few favorites: Boda for its eclectic Thai food and chic interior; Eventide Oyster Co. for delicious lobster rolls and oysters (if you didn't have that last night!); or Duckfat for truly excellent poutine and perhaps even a milkshake.
Topping your evening off with a nightcap is a welcome way to finish off a packed day, and there are more than a few good spots to head to after dinner.  We would suggest a drink or two at the classy yet understated North Point on Silver Street, for their excellent cocktails. If you are more interested in something a bit more casual, then Lincoln's Lounge is your best bet– if you can find it, that is! The $5 beers (everything costs "a Lincoln," or $5 USD, here!) are hard to beat, and the speakeasy style is really unique and memorable. 
As for nightlife or clubbing, the Old Port has the biggest concentration of nightlife in Portland, and Wharf Street is the closest to a "clubbing street" in the city. 
The last day of an eventful weekend is always at risk for "Sunday Scaries," as we like to call them, so we hope that some fun activities will make your time left in Portland a little less bittersweet.  
For a quintessential Maine breakfast, check out the iconic Becky's Diner.  Despite often having a decent wait time to enter, Becky's Diner is one of those old-school diners of yesteryear that seems to have barely changed over the decades, but in a good way. Eating a huge breakfast of pancakes, eggs, bacon, and toast is a great start to your day, especially from a special diner like this. Clam chowder pictured!  
Once you are done with breakfast, depending how much time you have to spend, we would recommend checking out one or two of the historic homes found in Portland. The Maine Historical Society and the Wadsworth-Longfellow House are stellar places to visit, and we have heard that the Victoria Mansion is also very nice.
If you're a biking fan, you can rent a bicycle to explore more of Portland's parks or neighborhoods, such as Payson Park and Back Cove Park.  
If you'd like to check out a few more lighthouses, Portland has an abundance! Check out the Portland Breakwater Light (AKA the "Bug" Light), the Ram Island Ledge Light, or the Spring Point Ledge Lighthouse.
Lastly, if you have some spare time and a car, there are several beaches a short drive away, such as Ogunquit (pictured), Crescent Beach (in Portland proper), or Old Orchard Beach (a perennial favorite!) 
We hope you enjoyed this guide to one of our favorite cities in New England! As always, let us know if there's anything you think we should add in the comments, or what your favorite place in Portland is! 
Pin this guide for later here: