As part of a wonderful 3-week mother-daughter trip with my mom and sister to South America in 2019, we spent 3 days in Argentine Patagonia. 
Once you arrive from Buenos Aires to the airport in El Calafate, it's cheap and easy to get to town via bus. We booked our shuttle ahead of time, paying 700 pesos (about $10 USD) each for round-trip tickets with Ves Patagonia, a service recommended on El Calafate Airport's website. We emailed reservas@vespatagonia.com to make our reservation, including our flight information, and it was a super easy and smooth process. All other shuttles (and of course taxi services) were much more expensive. 
It's about 20 minutes from the airport to town through the wide-open Patagonian countryside, and here you'll get your first glimpse of what you'll surely feel throughout your visit– that your traditional concepts of space and time just don't apply here. The vast landscape, the huge sky, and the total lack of construction and man-made structures other than the road you're driving on can feel almost jarring after several days in metropolitan Buenos Aires, but we immediately felt refreshed.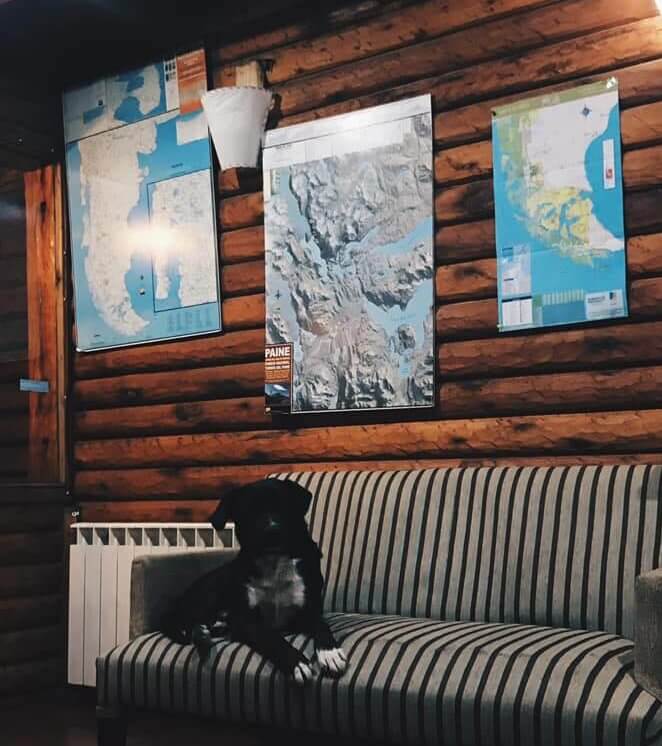 Since we were the only people on the bus, our bus driver dropped us off right outside our hostel. We had a fantastic stay at Calafate Hostel, in a large room with 3 beds for about $45 USD per night. Despite being very bare-bones, we recommend this place to anyone. It includes a carb-heavy but delicious breakfast (yes, including dulce de leche!), and they start serving at 6AM so you have plenty of time to eat up prior to the departure of your day tours.
We spent the evening walking around the adorable, snowy town and loading up on some groceries at the (surprisingly quite sizable) grocery store. The town definitely has the "cute alpine retreat" theme in spades, and we loved exploring. Tip: definitely stock up on snacks and materials for DIY sandwiches for your day tours. Most tours don't include food and will drop you off at overpriced restaurants or visitor centers for lunch, so you're better off saving some money and bringing your own lunch along. 
Day 1: El Chaltén + Mount FitzRoy
Our first day in El Calafate dawned chilly and foggy, with rain certainly on the horizon, which made us immediately nervous. We had booked a day trip with GetYourGuide for $55 each to hike around the El Chaltén and Mount FitzRoy area, and our tour operator sent us a WhatsApp message ensuring us that the trip was still a go. 
We were picked up at the hostel at around 6:30AM, and spent the next half hour or so picking up the other passengers at their various lodgings, hitting the road (Ruta 40, the main byway in the region) as the sun began to rise. Despite the fog, we were able to see guanacos and other cute critters on the way there, as well as a lone gaucho on horseback. 
After being in the van for a while, we stopped briefly at a roadside cafe called La Leona, which has a gorgeous view of the Lago Viedma and its turquoise-hued waters, as well as breathtaking vistas of the Andes Mountains. Charles Darwin conducted a variety of his expeditions around here and in Los Glaciares National Park, where the tour was ultimately heading. 
Next, we stopped for a brief 4km hike at Chorrillo del Salto, a waterfall, prior to arriving in El Chaltén, a small town nicknamed the "National Capital of Trekking" in Argentina. It is also one of the youngest towns in the area, founded in 1985. Due to it being the off-season, pretty much everything in town was closed. 
After lunch, the hiking portion of the day began. 
We hiked the Mirador Los Cóndores, which afforded sublime panoramic vistas from the top of one of the area's small mountains, at a hiking level that wasn't too challenging. The clouds were heavily covering Mount FitzRoy for most of our time there, but at one point we did get a peek of the summit! 
We overall enjoyed this day trip, but be warned that it is a lot of driving for only 3 hours or so of hiking. If you're looking to be able to do the area's more challenging hikes, you'll likely need to stay in El Chaltén overnight, and visit between October and April. 
Overall, we would say the activity level here was a definite beginner. You'll be huffing and puffing at some of the inclines, but it's not a sustained difficult path, and you may be left craving a little more adventure. If you're looking for more hikes in El Chaltén, we urge you to check out this hiking guide from Dan and Beck over at Travel Made Me Do It! 
Many of the paths in the area are closed during the winter, including the famed Capri Lagoon hike that we were hoping to summit. While Patagonia in winter is absolutely gorgeous, be warned that your options will be limited. While we definitely disagree with other bloggers who say it isn't worth it to visit in winter (the views are absolutely jaw-dropping year-round, we promise!) it is certainly much quieter in the winter.
We arrived back in El Calafate at around 7PM, and enjoyed a quiet evening at our hostel, resting after a very active day.
If you do nothing else in the Patagonia region, you absolutely cannot skip a day trip to the Perito Moreno Glacier. This day ranks in one of the top days of Tegan's life, and there are simply no words that can describe seeing this glacier and its surroundings in person. While there is unfortunately not much hiking to do in the immediate Perito Moreno area, it is located in the Los Glaciares National Park, which offers tons of hiking options if you have the time to spare– regrettably we didn't. You can also opt to walk directly onto the glacier, which we did in Iceland and recommend checking out! 
We were once again picked up quite early by our tour, though the drive to Los Glaciares National Park is much shorter than the ride to El Chaltén. We booked our tour via Viator, and highly recommend adding on the boat ride, even though doing so made the day trip a bit over-budget for us at $85 each. We had much better weather than we did the day before, and the day dawned bright and sunny. The views from the bus on your way to the park are so, so spectacular, and our bus stopped a few times on the way there for photo opportunities of the sublime Lago Argentino and surrounding flora and fauna, considered "alpine steppe" topography. Right before arriving at the entrance to the glacier, we stopped at a series of small trails with serene mountain views, perfect for some light walking and photos right before the "Curve of Sighs," a turn in the road that gives you your first glimpse of the mindbogglingly gorgeous glacier. One of the things that makes Perito Moreno so special is that it's one of the only advancing glaciers in the world, meaning that it is growing and expanding, and currently is about 30km long (!) Note that your tour does not include the entrance to the national park, which isn't cheap at about $12 USD per person, cash-only.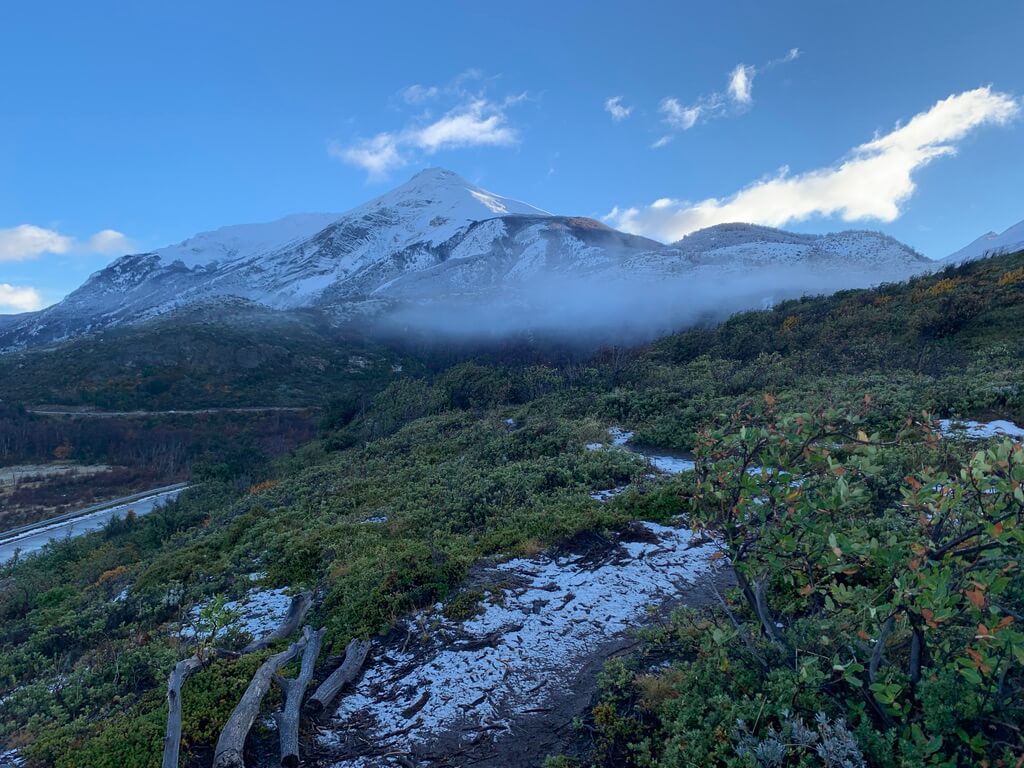 When we arrived at the base of the glacier, we exchanged our vouchers to board the boat via the Bajo Las Sombras port. The boat chugs along across the Rico Arm of the Lago Argentino, meandering between huge chunks of ice floating by to get you right up close to the front wall of the glacier. 

Some tips here: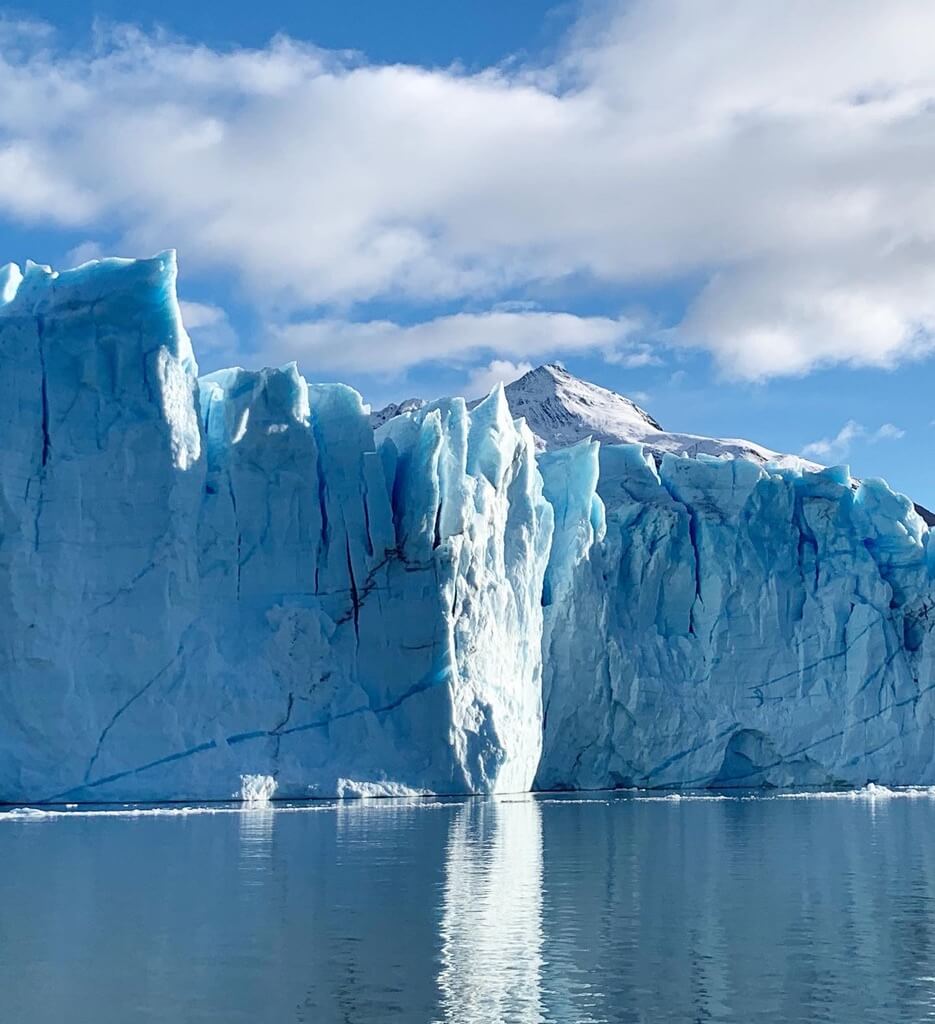 You have to be

very quick

boarding the boat to get the best/uninterrupted views of the glacier. The boat is very crowded, and it's hard to find viewpoints that don't have people in them. We noticed that a lot of people flocked to the upper level of the boat– this doesn't seem necessary. Instead, prioritize squeezing into an area that doesn't have any part of the boat in the way. If you hang on to the guardrails really tightly and lean back a bit, you can get amazing photos without any boat parts in the way.

It is

very cold

and

very, very slippery

on the boat. Prior to what we thought, this was the coldest day for us in Patagonia. Make sure you wear your base layers, and add a scarf and beanie or earmuffs. Definitely wear gloves! As for footwear, we recommend

L.L. Bean Boots

or similar shoes with some grip on the bottom. You definitely don't want to spend a single second of your time inside the boat, as the views from the decks are the best views of the glacier that you will get. But be warned that the exposed water is COLD!

You have some time to get situated and choose a part of the boat to stake out as your own, as the boat takes quite a while to get up close to the glacier. Make sure you don't miss the mountains behind the boat, as well as the trees and other surroundings. It's easy to be distracted by all the people jostling around you, but sometimes we all need a reminder to just "be" in a place. This glacier is a place like no other, and you will be absolutely speechless the closer you get.

There is a presentation given by guides inside, but it's very hard to hear. If you have specific questions, just walk up to them and ask.

After the boat ride, we were dropped off at the series of trails and viewpoints along the south wall of the glacier. These areas give you a totally different view than the boat ride, and seeing Perito Moreno from above was just as breathtaking as seeing it in front of you. The Argentine government has done a stupendous job building accessible wooden walkways that snake all around the area, with lots of viewpoints and trails marked with different colors for difficulty. We were happy that we were given enough time to explore them all, as each viewing platform offers a different angle of the glacier than the one before it. We were lucky to see a few instances of "calving," where chunks of ice break off the glacier and hit the water below with a mighty splash. 
There are truly no words to describe a day in the vicinity of Perito Moreno. Nothing we can write will do it justice, and no photos will either. Despite being quite a tourist hub (even in winter, when we visited), we still felt that we were able to enjoy our visit. Not even mobs of tour groups can distract from the sheer beauty of this place! We will be forever awestruck by it, truly. And as you've probably noticed, we usually avoid big "tourist traps!" Have you visited? Were you as obsessed as we were? Let us know in the comments!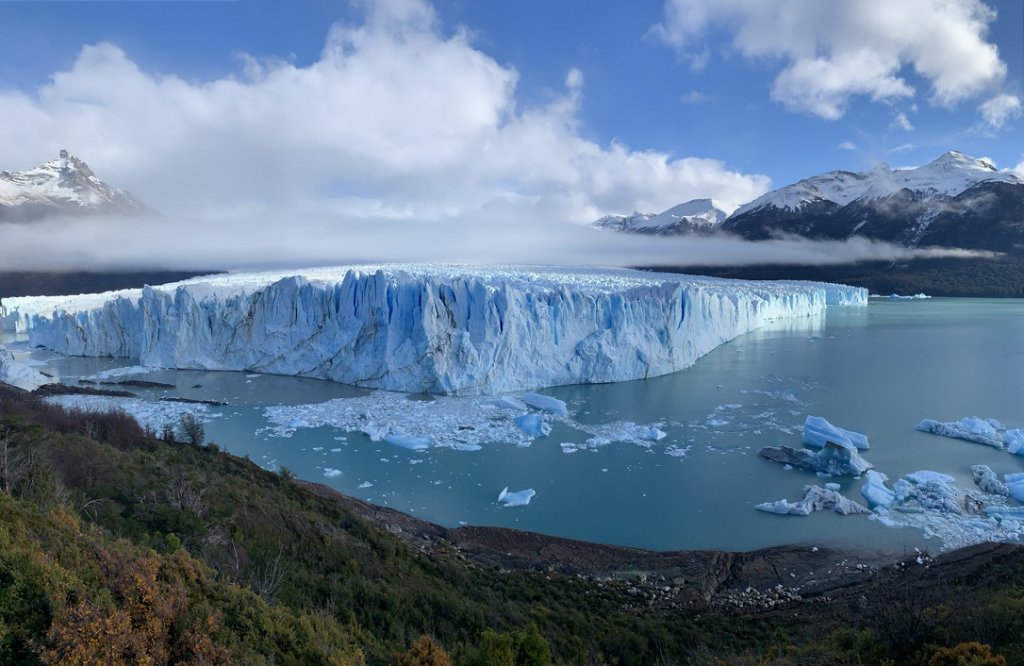 The ride back goes by quickly, and you'll be back in El Calafate before dinnertime. Since you arrive back earlier from this tour than from many others, it's a good night for a splurge meal in town, if you can budget that. We were absolutely ravenous, and opted for some good-old wood-fired pizza and beers in town. We loved the Cerveza Patagonia Amber Lager and super recommend it! 
Day 3: El Calafate + Laguna Nimez
On Day 3, it's nice to take a break from the trekking and adventuring to spend some time in and around El Calafate itself. We chatted with some people at our hostel who said they were doing a day trip to Torres del Paine (on the Chilean side of Patagonia), but that just seemed like a bit too much to pack into one day for us. We had read previously that the Chilean Patagonia isn't particularly accessible in the winter, and a 7-hour-each-way bus ride in one day seemed a little intense to us. Did you do a day trip to Torres del Paine? Let us know in the comments! As for us, we decided to plan to come back in summertime to spend several days on the Chilean side, and instead spent the day wandering and walking all around El Calafate.
The downtown/Main Street area is very cute, and there are lots of little cafes to wander into for a hot chocolate or a snack. We started out the morning with a visit around the Laguna Nimez nature reserve and bird sanctuary, It's a very short walk from the downtown area, and is a wonderful showcase of the native flora and fauna of the region. There's an overlook tower where you can see flocks of local flamingoes, and a well-marked trail guides you all around the reserve, with informative signs and photos about what you're seeing. On our way back to downtown, we kept walking on the main road (that leads you to and from the airport) and explored the lake-front houses, hotels, and sights that can be seen from the road. There are beautiful views of the Lago Argentino, as well as lots of places to stop for photos. It's almost like an informal version of the Rambla that we explored a few weeks earlier in Montevideo.
Later that afternoon, our shuttle picked us up at the hostel and took us back to the airport. Once again, our tourist fare did not allow us to check in online prior to our flight, and the Aerolineas Argentinas staff were very strict about the dimensions and weight of our luggage. As we mentioned in our Buenos Aires post, you should definitely make sure that your luggage does not go over the 8kg you are allowed. They will charge you extra, and they do not allow you to take things out to lower the weight. Your included personal item (like a purse or small backpack) will also be weighed, and cannot exceed 3kg. 
From El Calafate, we flew back to Buenos Aires, and then connected to Santiago, Chile from there– the 2nd-to-last leg of our amazing mother-daughter trip! Be sure not to miss our travel guides for Santiago and Valparaiso, as well as the Atacama Desert.