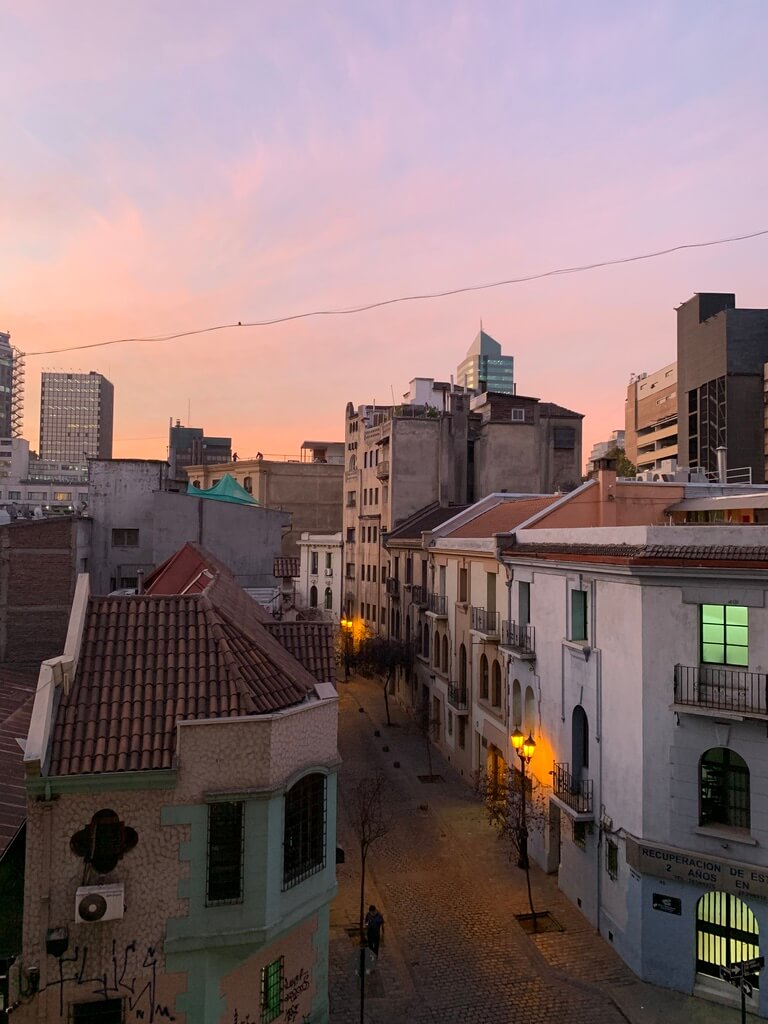 Santiago is a shiny urban metropolis located in Chile's Maipo Valley, surrounded by the incomparable Andes Mountains. We hope you enjoy our itinerary for 3 days in Santiago, including a day trip to Valparaiso!
We stayed in an Airbnb apartment very close to the Palacio de la Moneda (the seat of the Chilean presidency) in downtown Santiago for about $40 USD per night. The apartment was located in a super convenient location for exploring Santiago, but was very cramped for 3 people. There was a large grocery store nearby, and the area serves as a great jumping-off point for exploring the city.
If you're already in the Palacio de la Moneda area, it's an easy walk to the Plaza de Armas, the main square of the city. Founded in 1541, the square remains a central part of urban life today as well, with shady palm trees and lots of benches making it a prime spot for people-watching. Be sure not to miss the fountain of Simon Bolivar in the center, as well as the Metropolitan Cathedral (don't miss taking a peek inside!) and other colonial period buildings.

You can also pop into the Museo Histórico Nacional, located in the Royal Court Palace (what used to be the seat of government) or the Museo Chileno de Arte Precolombino nearby.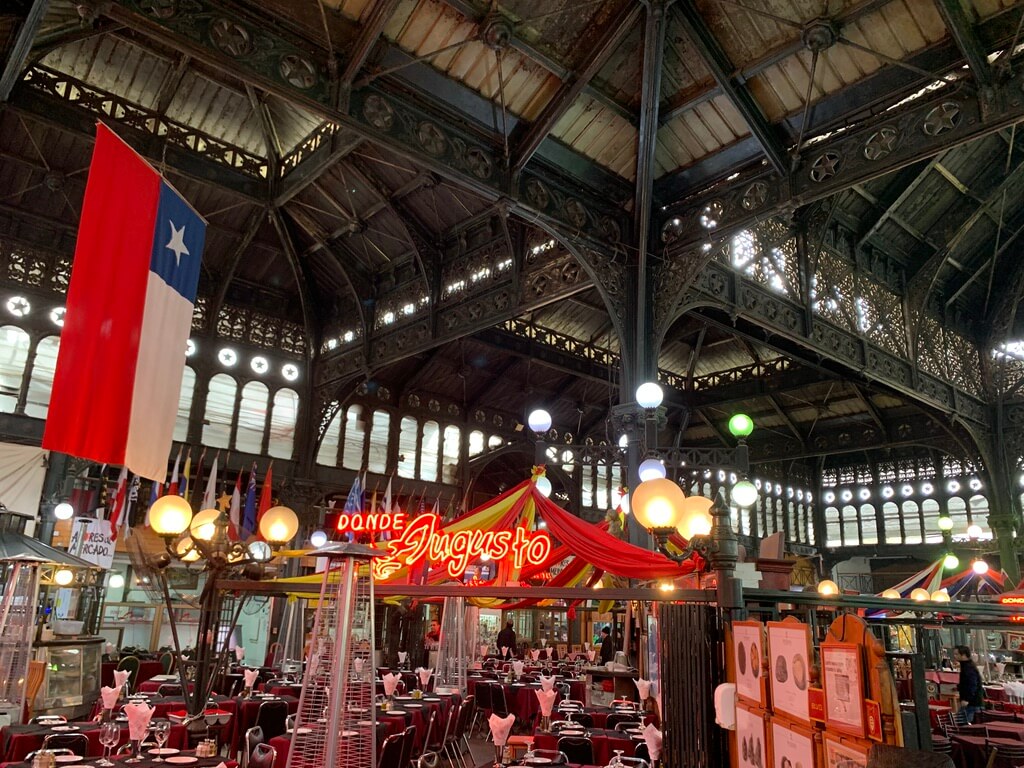 It's a super quick walk (less than 10 minutes) from the Plaza de Armas to the Mercado Central, Santiago's predominant seafood market and now-national historic site. Chile's super long coastlines yields truly bountiful seafood options, but we found the Mercado Central to be a bit too touristy (and thus, pricey) for us. It's worth popping in for a visit, and perhaps a ceviche if it's in your budget!
Another quick 10 minute walk away from the Mercado Central, you'll find the Museo Nacional de Bellas Artes and the Parque Forestal. The museum is located in a grandiose and very romantic building, and we loved strolling around the park before and after our visit. The museum is free, and when we were there had a large and well-done exhibit dedicated to those fighting against the rise of Chilean dictator Pinochet in the 1970s.  
Later in the afternoon, it's an easy walk from either the Plaza de Armas area or the Parque Forestal/museum area to Cerro Santa Lucia, a lovely park situated approximately where Pedro de Valdivia founded Santiago in 1541. As you summit the hill, be sure not to miss the Fuente Neptuno fountain at the entrance and the Castillo Hidalgo, built in the 1800s to protect the city from invasion.
There are a variety of trails, stone staircases, and pathways to guide your way up the hill from the entrance, and the park is super well-maintained and easy to navigate. If it's clear out, you'll see some stupendous wraparound views of Santiago and the surrounding mountains from the top.
Tip: It's absolutely wonderful to watch the sunset at the top of the Cerro Santa Lucia, so time your visit to the park and the peak with the sun going down– you won't regret it.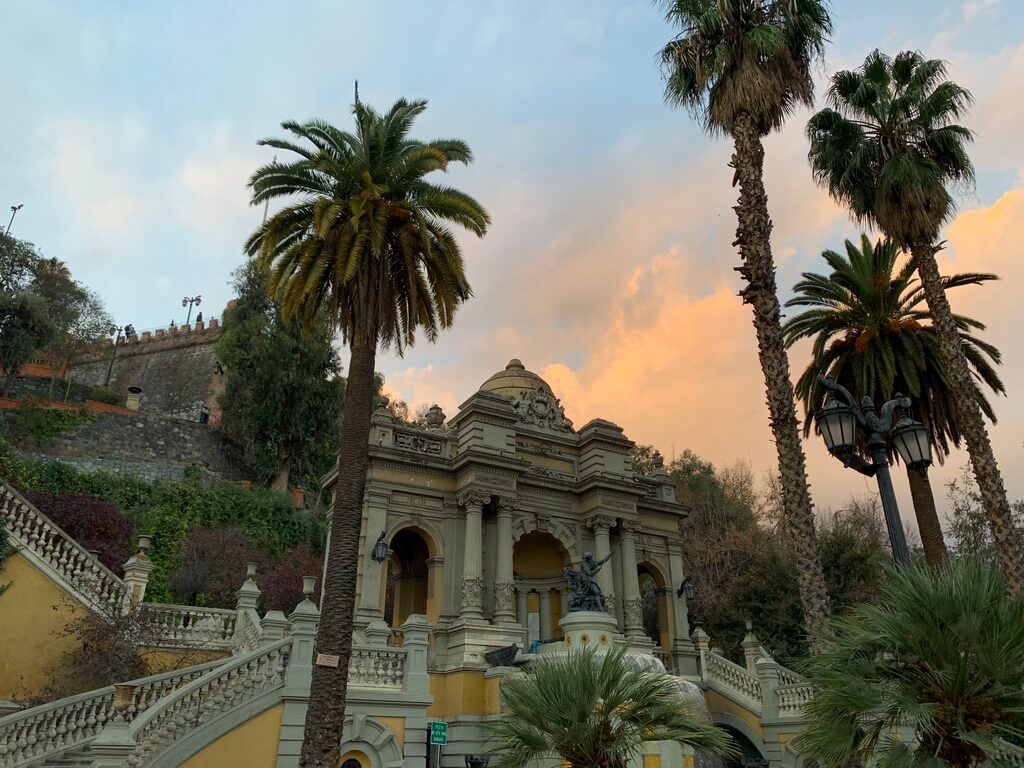 Day 2: Valparaiso Day Trip
It's an easy bus ride from Santiago to Valparaiso, Chile's bohemian street art capital.

Famous among artists, painters, philosophers, and the like, Valparaiso (known colloquially as Valpo) is a fun port town to visit for a day or two. Houses in every color imaginable seem to be literally stacked on top of each other, forming a labyrinthine panorama of color and fun. There is street art absolutely everywhere, and much of it is actually breathtakingly good! A lot of the houses could use some TLC, but the "shabby chic" vibe works well, too.
From Santiago, you can hop aboard a bus either at the Pajaritos Metro station or at the central station, Terminal Alameda. We were closer to Pajaritos, and departed from there. Buses run super frequently (every 20 minutes or so), so there's no need to get tickets in advance. However, we did go ahead and purchase our return for the evening return trip at the same time, just to ensure we could get back to Santiago when we wanted to. Tickets cost about $2700 Chilean pesos (about $3 USD) each way per passenger.

Once you arrive, the bus terminal is very close to the Plaza Sotomayor, one of Valpo's most-transited squares. Don't miss the architecture around here, especially the Iglesia de la Matriz and Edificio Armada de Chile (above left).
The easiest way to get around the city is to walk, but the myriad up-and-down hills can get perhaps a bit tiresome for some after a while, so be on the lookout for funiculars and elevators like the Ascensor Reina Victoria (perhaps the most famous, built in the early 1900s.) You can also take the streetcar or bus system around, which we found super easy to navigate and reliable.
Definitely don't miss the street art around here– we liked the Cerro Concepción and Cerro Alegre areas best. If you want to visit one of Pablo Neruda's houses, La Sebastiana is located in Valpo. 
Note: We decided to visit La Chascona in Santiago instead, but would love to go back and visit La Sebastiana, too.
One minor note about Valpo– it has a bit of a rough reputation, which we would say we agree with based on our day there. Pickpocketing is said to be very frequent here, and overall we didn't feel quite as safe as we did in Santiago. Just be mindful of your belongings and don't be flashy– our usual advice for travel!
Today was our favorite day by far in Santiago. We started the day heading over to Barrio Bellavista, one of Santiago's loveliest neighborhoods, to visit La Chascona, once home to (arguably) Chile's most famous poet, Nobel Prize winner Pablo Neruda. Tegan is a huge Neruda fan, and it had been on her bucket list to visit La Chascona for quite some time.

Neruda had the house built in 1953 for his 3rd wife (his lover at the time of its construction), Matilde Urrutia. He named it La Chascona (meaning "woman with tangled hair) after her, referring to her wavy red hair, which he adored. The house is now a museum, with all sorts of quirky things inside, including Neruda Nobel Prize, writing desk, and other things belonging to the couple. The architecture of the house is fascinating, as is the portrait of Matilde by Diego Rivera (of Diego-and-Frida Kahlo fame.)

Tip: We would definitely recommend arriving here early. Tickets are first-come-first-serve, and the staff are very protective of the house and its contents. There are certain places you aren't allowed to take photos, and the audio tour (included with the price of your ticket) is super informative. Definitely don't miss a visit, and check out the attached bookstore for Neruda's work translated into lots of languages.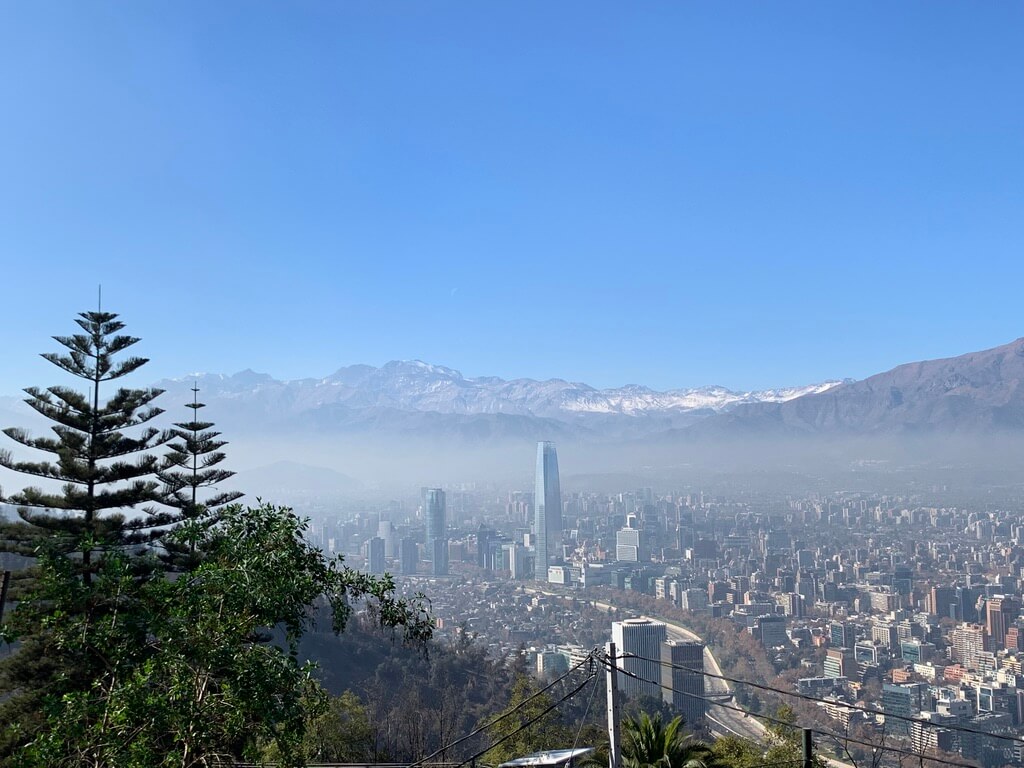 From there, it's an easy walk to the sprawling Parque Metropolitano, where you can either hike up or ride a scenic funicular to the top of the San Cristobal Hill. There is also a zoo and botanical garden in this area, as well as a lovely religious sanctuary and church area dedicated to the Immaculate Conception and the large statue of the Virgin Mary.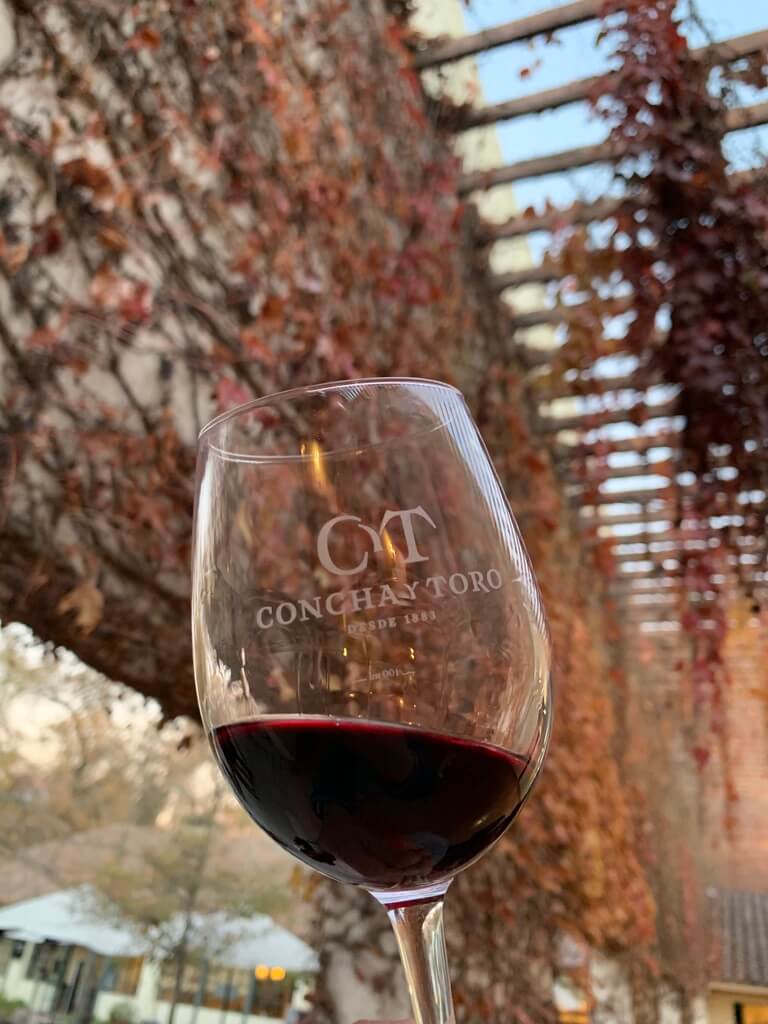 In the afternoon, we made our way over to Concha y Toro, makers of several of our favorite wines back home, for a tour and visit. You can reserve your tour here. You can choose which language you want your tour to be in, and it comes with a wine tasting and complimentary wine glass that you can take home with you.
Concha y Toro is by no means the only winery in the area, and there are several others closer to the center of Santiago than this one. However, we enjoy their wine so much at home that we thought it would be fun to visit. The tour was very informative, and the house where the original owner and his family lived still stands. The descendants of the original owner still own part of the winery, but have sold most of it to other companies by this point.
If you're looking for more winery recommendations, as well as another fabulous day trip option, check out this itinerary to the Maipo Valley from Dan and Beck over at Travel Made Me Do It. It includes two fantastic vineyard recommendations and is a great budget option at ~$30USD for the day.   
We paired our trip to Santiago with a 3-day trip to the absolutely stupendous Atacama Desert. If you're in Santiago, we absolutely recommend spending a few days here. Budget flights with airlines like Sky Airlines can be as cheap as $75 round-trip, and the flight takes less than 3 hours. Don't miss our guide to 3 days in the Atacama Desert– check it out here!