You simply must squeeze in at least 3 days in Seoul, South Korea if you're visiting Japan or other areas of Asia, though you could spend much longer than that in Korea!
We booked a 3-day trip here almost as an afterthought, and we are so glad that we did. It's a super cheap and easy flight that takes less than 3 hours from Tokyo, and Seoul is truly one of the coolest big cities we've visited. 
Seoul's blend of "old-meets-new" has ancient castles next to sleek high rises, and this "royal-cosmopolitan" vibe is felt far beyond its architecture and into its music scene, funky fashion, youth culture, and beyond.
We found Seoul to be a truly unique place and a very underrated city to visit. 
We arrived in Seoul from Tokyo fairly late in the evening, and after going through immigrations and customs, we took the Airport Railroad Express (AREX) train from the airport to Seoul's main station, which took about an hour. 
We then walked to our hostel, 57 Myeongdong Hostel. We can't recommend this place enough! It cost about $50 USD per night, included a (surprisingly bountiful) breakfast, and was located in hands-down the best part of Seoul (we think) to stay in. 
The Myeongdong area of town is situated perfectly for all of Seoul's attractions, and has lots of shops, restaurants, street food (more on that later), and a large walking street. Seoul overall is super walkable— we walked almost everywhere we went, despite having VERY cold weather and a lot of rain while we were there. 
The temperatures were at least 20-30 degrees (Fahrenheit) colder than in Japan, which is definitely something to consider if you visit both cities in winter like we did. 
If you've read our other Asia posts, you can probably guess what we're going to say is our first tip. 
Wake up early. 
Tourist attractions fill up really fast in Seoul just as in Tokyo, Kyoto, or Bangkok, and the experience is so much better without the crowds. 
Our first stop on Day 1 in Seoul was the Gyeongbokgung Palace, or the "Palace of Shining Happiness," built by Taujo, the first king of the Joseon Dynasty in the late 1300s. We arrived at about 9:10 AM and were among the first in line waiting for the doors to open at 9:30 at the main gate, Gwanghwamun. 
Gyeongbokgung is the most popular palace in Seoul to visit, and served as the official royal residence until 1910. Admission to the National Palace Museum of Korea is included with your $3 USD entrance ticket, which is worth a quick visit. We loved strolling around the grounds of the palace and seeing all the reconstructed buildings (all but 10 were destroyed during the Japanese occupation, which lasted from 1910 to 1945, but were very lovingly and successfully renovated.) The rooms are decorated in the traditional palace style, and this was our first glimpse of the gorgeous green, blue, yellow, and red colors ubiquitous to Korean palaces. 
Some particular favorite locations were Geunjeongjeon Hall, the former throne room, and Gyeonghoru, a gorgeous pavilion in the center of a small lake that used to serve as a banquet room and meeting area. We were lucky to see a reenactment of the changing of the guard while we were here, which is definitely something to stick around for if you're concluding a morning visit. You can see the changing of the guard at 10:00, 1:00, and 3:00 daily. The music, colors, and choreography is super well-done and not kitschy at all, and we were fascinated by the vibrant and colorful period attire and musical instruments used.
From the palace, we walked over to the Bukchon Hanok Village. Hanok are traditional Korean homes, made from wood and ornately designed, no two the same. Not many still exist, but the Bukchon area is filled with them, most of which still have people living in them. 
This area gets very, very crowded, and while we loved walking around and admiring the beautiful houses and the gorgeous artisanry of each one, the presence of large tour groups shouting and jostling for photos did affect our experience. However, the houses were so, so lovely to look at, and a great example of a unique Korean architectural style that isn't found in many other places, so get there early! 
Nearby, there was a street vendor serving hoddeok, pancake-like treats filled with brown sugar and nuts and fried. This is apparently primarily a wintertime treat, but you should try to find them in other seasons, too! Piping hot and so delicious.  
It's an easy walk to the Insadong District from Bukchon, where you can meander to your heart's content on Insadong Gil (the main street in the district.) On Sundays the area is closed to cars, which is a plus! The area has tons of little alleyways (called golmok) to explore, and is filled with shops, cafes, and restaurants, along with street vendors selling snacks and (thankfully) a large below-ground bathroom area. 
Next to the bathrooms, there is a tourist kiosk where they'll give you a map and point out where they recommend you visit. Insadong is known for its souvenir shopping opportunities, and while we didn't really explore that, there's certainly something there for everyone! 
If you're getting hungry by now, you're in for a major treat. Lunch at Gwangjang Market is a must! This was our favorite food experience on our Japan/Korea trip. 
There are so many things to try, and the hustle and bustle of vendors, the delicious smells, and tons of options (for low prices!) are unparalleled. Your first stop should absolutely be a mung bean pancake, a delicious treat similar to a crispy frittata that is served steaming hot and fresh. They're quite large, and our vendor offered to split ours in half so we could each hold our own half. 
After meandering around and surveying our options, we sat down at the first place we saw with room for two people to squeeze in. Alex chose to try a cold and spicy kimchi dish with pork called bibim-guksu, and I chose a hot soup with dumplings, topped with seaweed and kalguksu, delicious Korean knife-cut noodles. 
This was the best food we had on our whole trip, and we can't recommend it enough! We were very excited to visit the food stall featured on the Seoul episode of Netflix Street Food, but sadly the owner of the stall, Cho Yonsoon, was away at her son's wedding when we were there. Have you tried her noodles? Let us know in the comments!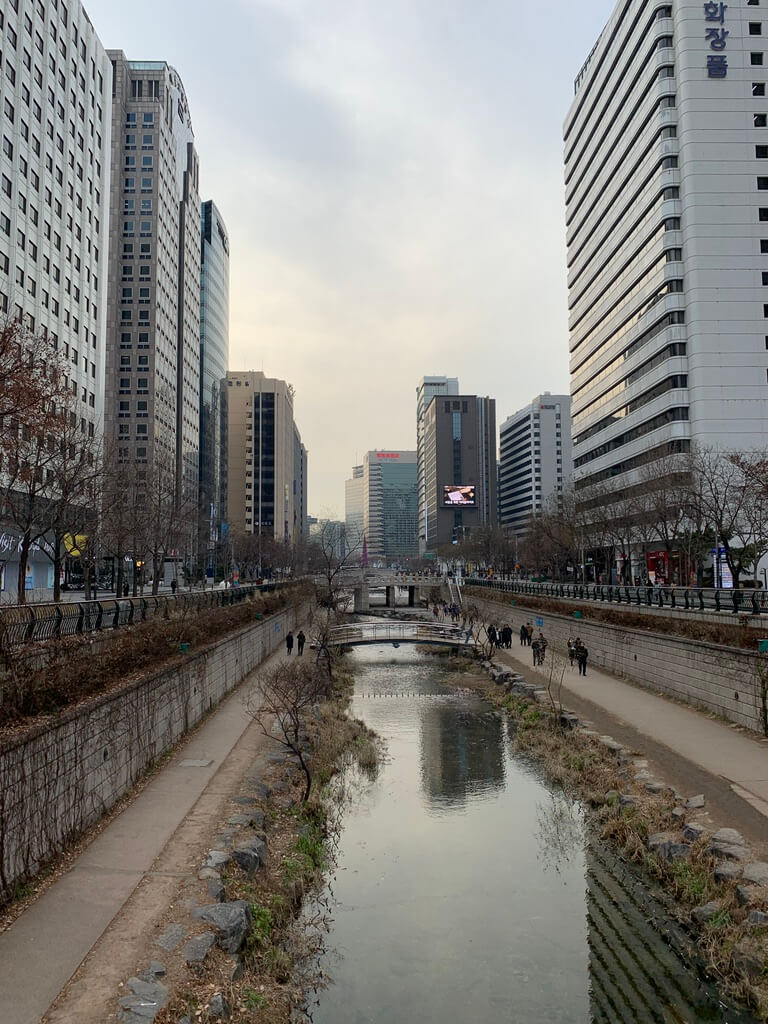 Once you eat to your heart's content in Gwangjang Market, it's nice to walk it off a bit around the Dongdaemun Gate area. The Dongdaemun (meaning "Great East Gate"), originally built in the late 1300s, used to mark the eastern terminus of Seoul, but there's now a bustling market and fun river area around the gate to explore. The river, called Cheonggyecheon, runs about 5 miles with a walking path next to it. It's quite a bit below street level (accessible by stairs every so often), and feels like a lovely little oasis in the middle of the huge city, with great vistas of Seoul's buildings all around and, of course, no cars or crosswalks to worry about! 
Dongdaemun Design Plaza, designed by the super-famous architect Zaha Hadid, is a really interesting space to explore, too, and you can check out the Dongdaemun Market while you're walking around there as well. We thought this was an area that you could spend as much or as little time exploring as you want. If you have a free afternoon and the weather is nice, it's wonderful to meander up and down the canal area, appreciating the upward views and the water. If you only want to walk for a little bit and then pop your head into the Design Plaza and Market, that's perfectly fine, too.
As you're walking back toward Insadong, don't miss the Jogyesa Temple. It is an absolutely stupendous example of traditional Korean temple architecture, and the gorgeous colors and intricate details were just so, so beautiful, you won't be able to stop staring! 
Jogyesa is the headquarters of the Jogye sect, which is Korea's primary Buddhist order. You aren't allowed to take photos inside the temple, but you should absolutely still poke your head in and (quietly!) look around. The inside features three golden Buddhas surrounded by gorgeous colors and incense, is largely free of tourists, and is a nice spot for some quiet reflection and contemplation. When we were there, the temple grounds were decorated for the new year with lanterns, streamers, and flower wreaths. You will be in total awe of the design work here. 
That evening is the perfect time for a visit to N Seoul Tower. Set out from your hotel well before sunset (we were walking distance from the Myeongdong area), and buy your ticket to take the funicular up to the top of the Namsan Hill. Keep in mind that the line for the funicular gets quite long at this hour (with both Koreans and tourists alike), and you may have to wait quite a bit. 
If you choose to go earlier in the day, you can walk up the hill rather than taking the funicular, but it was a bit too cold and dark for us to do given we'd been walking all day. Another plus of a visit during the day time is the ability to visit the Namsan Gugakdang, a traditional 300-seat Korean performance hall, and Mongmyeoksan stone guard towers dating back to the Joseon Dynasty. 
The funicular ride in and of itself isn't anything to write home about, but did get you up the hill quickly and easily. The views of Seoul from the funicular and the top of the hill are really wonderful. Once you get up there, there are tons of things to do. There are photo booths, areas to get snacks or even dinner, and a place where you can buy a lock to add your initials and throw away the key, if you so desire. We had a great time exploring around the hill and seeing the various vistas of beautiful Seoul lit up below.
We opted to head back to Myeongdong after this to get some dinner, and we were not disappointed. Since night had already fallen, by the time we got back from Namsan Hill all the street food vendors had set up for the evening. This area is street food heaven! We sampled all sorts of things, and you absolutely should, too! We first did a lap around the area, comparing prices and strategizing about what we wanted to try. 
Here are some must-try treats:
Japchae:

stir-fried Korean glass noodles (a big enough portion to serve as a meal)

Gyeranppang:

egg bread with sesame seeds on top 

Bungeoppang:

fish-shaped bread with custard inside 

Twigim:

the equivalent of tempura in Japan– we really liked the shrimp! 

Mandu:

Korean dumplings (most have meat, FYI)
They also have a variety of other things, such as crepes, fried lobster, chestnuts, fresh fruit/fruit juice, French fries, and other treats that we just found to be too pricey or not to our liking. 
What did you try at Myeongdong? Let us know in the comments! 
We started the day today by visiting the Jongmyo Shrine, a UNESCO World Heritage Site and a can't-miss visit. The various buildings encompassing the shrine house the spirit tablets of the Joseon kings, and the complex is a very sacred space in Korea where ancestral rites and memorial services for royals are performed. 
Unlike the joyful colors of the palaces, there is a more somber atmosphere here, though it is still very beautiful! You can't enter Jongmyo without a tour guide, so make sure you plan your visit around the tours being offered in your language of choice. English tours are offered at 10:00, 12:00, 2:00, and 4:00 and they are very inexpensive at less than $1 USD. The guide was fantastic– not too long in length and very informative, including a variety of buildings, pavilions, and halls, as well as their significance. The buildings have been lovingly preserved since the 1600s. 
After leaving the shrine, we visited a customary Korean tea house called Dawon, in the Kyungin Museum of Fine Art complex. We chose to try a jujube tea (they have lots of options, though!) and some traditional Korean sweets. This was a lovely "blast from the past" moment and it was great to see the inside of a traditionally-decorated Korean tea house. It was also lovely to get out of the cold! Jongmyo is a bit exposed and we were definitely feeling a bit chilled by this point. 
On the way back, we stopped at the Namdaemun Market, which is very different to Gwangjang, primarily offering clothes and other consumer goods, rather than food. 
We had planned to go hiking at Bukhansan National Park this morning, given that Seoul is one of the only major metropolitan areas in the world that has a national park within city limits! 
There are all sorts of hiking trails here for all activity levels, rock-climbing, and Buddhist temples, babbling brooks, and even an old school! However, the weather just wasn't cooperating, and it rained quite hard the whole day. While we're not opposed to hiking in the rain, we felt it wouldn't do the site justice, and hope to go back one day! For more information on hiking, you can go to the Korean National Parks Service site dedicated to Bukhansan. We were especially looking forward to hiking the Bukhansanseong Trail, an old Joseon fortress wall that is now a trail. 
Instead, most of our morning was dedicated to walking around the other two palaces located within Seoul: Changdeokgung and Changgyeonggung. They're separated only by a wall, so it's super easy to visit both, and admission to both costs a mere $3 USD. Changdeokgung, a UNESCO World Heritage Site, is said to be the best-kept of the five Seoul palaces, while Changgyeonggung is much simpler and more austere, with beautiful grassy areas and footbridges connecting to Jongmyo (the shrine for Joseon kings visited yesterday.) 
There is also a Secret Garden, called Huwon, which we sadly weren't able to visit on the day we went due to the weather, but is supposed to be absolutely lovely. You have to book tickets to Huwon in advance online up to 6 days in advance here, or take your chances with first-come-first-serve tickets each morning. (Tip: the first-come-first-serve approach didn't work for us!) 
Inside Changdeokgung, there is a really helpful tour path, with signs to follow in order to walk the right way. The path leads you through the various buildings and sites: Donhwamun Gate → Palace Chambers → Geumcheongyo Bridge → Injeongjeon Hall → Seonjeongjeon Hall → Huijeongdang House → Daejojeon Hall → Nakseonjae. 
Changgyeonggung's buildings are more spread out, as it was originally built to be a summer palace, but don't miss Myongjeongjeon, the main throne room, as well as the beautiful land surrounding the various buildings. We especially liked walking to the top of the hill and seeing the palace from above. 
Unfortunately, after concluding our palace visits we had to head back to Inchon to go to the airport. It was once again very easy to take the AREX train, and we were going through security in a flash.
Have you been to Seoul? What should we visit when we go back? Let us know in the comments!
As always, save this guide for later on Pinterest below!