Kyoto is a beautiful city that is a must-see on your visit to Japan. Read on for the ultimate guide to 3 days in Kyoto! 
We arrived in Kyoto very late after our shinkansen snafu, and walked from the central train station to our ryokan, a traditional Japanese hotel. If you haven't read our Tokyo or JR Pass posts yet, we had a hard time getting to Kyoto (even with our JR Pass) during Japanese New Year, so we really recommend booking in advance! 
We stayed at Kamoya Ryokan and had a lovely experience. If you've never been to a ryokan, like us, it was a really nice introduction to traditional Japanese culture. After staying the last few days in a tiny room in a high-rise hotel in Tokyo, it was a very grounding experience to transition to staying in a quiet, calm ryokan. 
Kamoya, like most ryokan, had the traditional tatami mats, bamboo mats that feel soft under your feet, and we were asked to take off our shoes upon checking in, changing into slippers. The room came equipped with soft comforter-style duvets and pillows, and sleeping on the mats was surprisingly comfortable! Tegan's dad would always say that sleeping on the floor was good for your back– maybe so! The rooms do have modern toilets, showers, and power outlets, which is the best of both worlds.
Day 1: Shrine-palooza + Nishiki Market
Let us go ahead and tell you that your experience in Kyoto will absolutely be defined by how early you are willing to wake up. In other words, the earlier you wake up, the less cranky you will ultimately be. 
We woke up before sunrise because we knew that we wanted to beat the crowds to the Fushimi Inari Taisha shrine, arguably the most famous in Kyoto. Even still, it was quite crowded when we arrived at around 6:30 AM. In this case, we suspect it was because many Japanese people take very seriously their hatsu-mōde, or "first visit" each new year, choosing the shrine they visit first in a new year very carefully and intentionally. Fushimi Inari is a popular choice, as is the Tōdai-ji shrine at Nara and others. For that reason, we found that the shrines were packed no matter what time of day it was, but much, much less packed at daybreak than later on. 
Our tips for Fushimi Inari:
As we said, get there as early as you can.

The shrine is theoretically open 24 hours a day, so you can get there whenever you like. In order to really take advantage of getting to marvel at the orange torii gates and take in the meandering paths to the top of the shrine, start ascending right as day breaks. We also heard that this shrine is very beautiful at night, so if you have the spare time or are staying nearby, consider a night visit!

In the morning,

the light for photos is better facing downward than upward.

Photos taken of us as we ascended had poor lighting because of the way the sunlight reflects through the trees.

Don't miss the

small shrines

! Fushimi Inari isn't just worth a visit for the orange torii gates, though those are spectacular. The smaller shrines, decorations, and cats that call the temple home are also fun to explore. 

Not to be Debbie Downers here, but… If you are expecting Fushimi Inari to be a place of quiet contemplation like we were, you may be disappointed. This is definitely an example of a place that has been

over-visited by tourists

, and the constant jostling for position, cutting people off for photos, "Instagram model" curating, and loud and disruptive behavior really affected our visit, despite arriving early in the day.
After visiting Fushimi Inari, it's an easy walk to the Yasaka-jinja shrine and park, located right at the end of one extreme of the Higashiyama area, which you can walk all around and explore after checking out the shrine.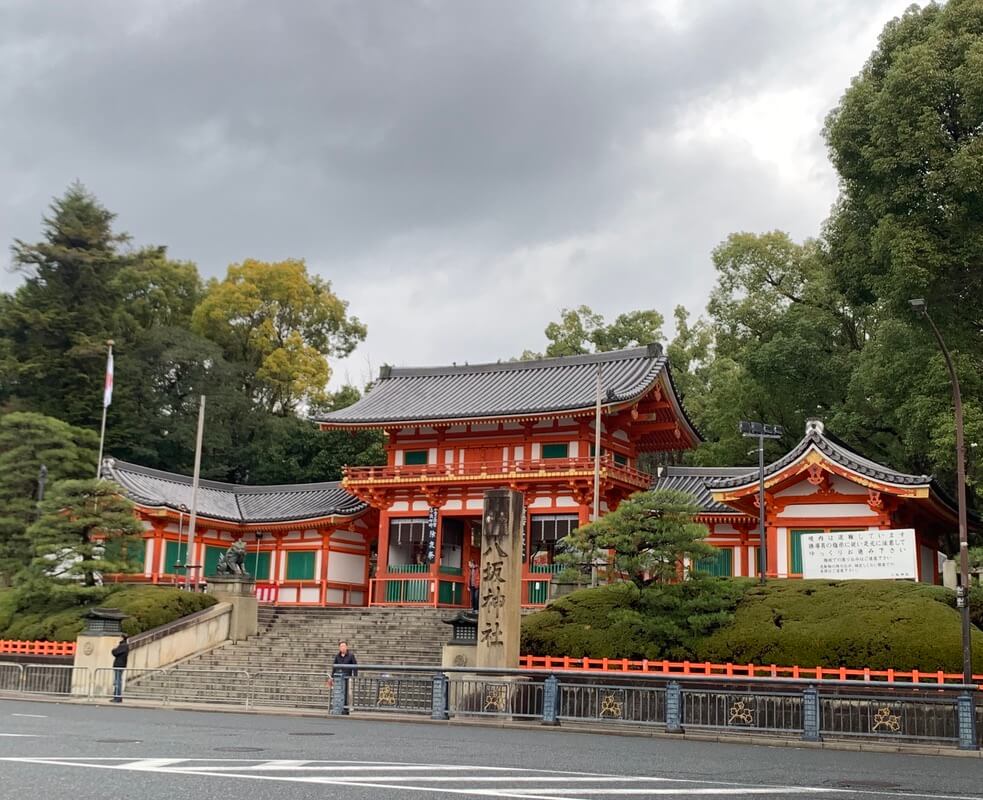 From Yasaka-jinja, you are very close to the Kodai-ji Temple and park, located at the top of a pretty steep hill with panoramic views of Kyoto and a more traditional, wooden structure than the bright orange pagodas.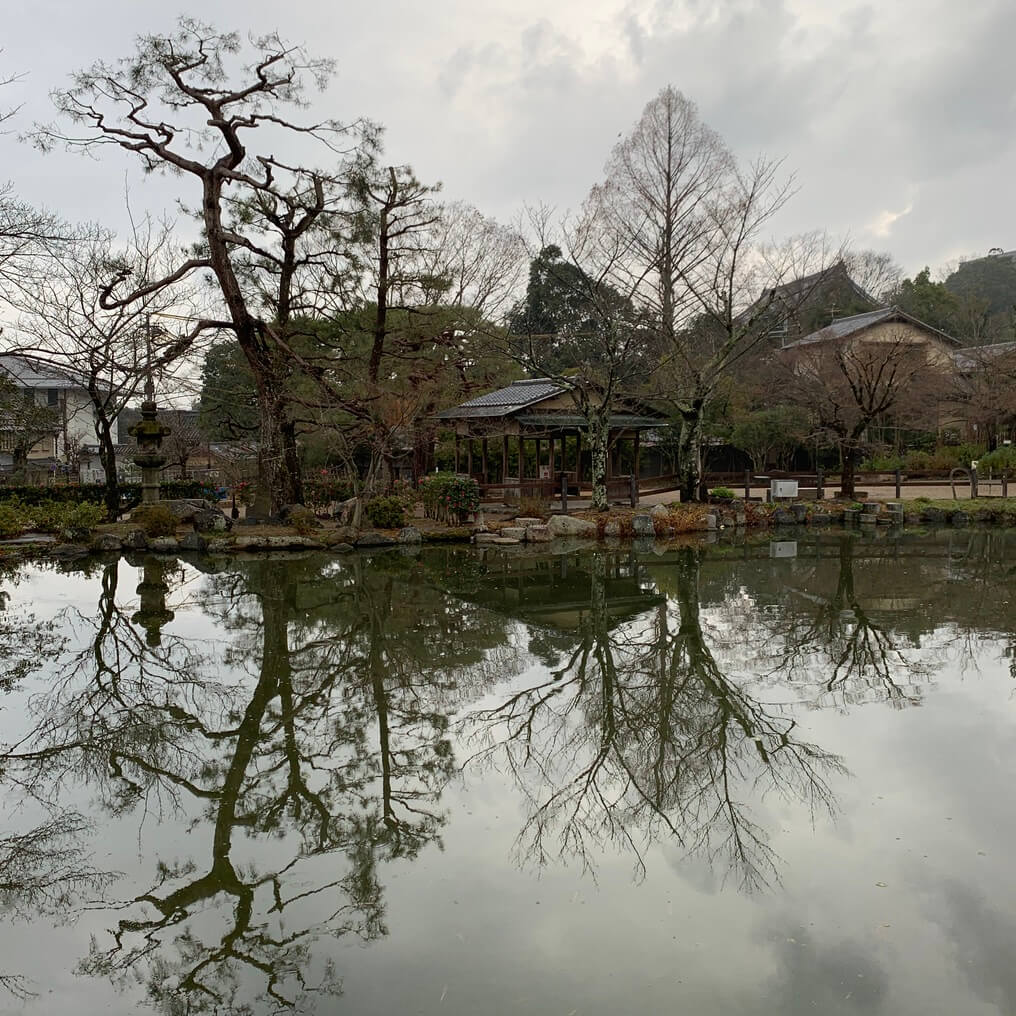 From here, it's easy to meander your way over to the Higashiyama old-style neighborhood, where you can trek up the steep cobbled hill, marveling at the gorgeous architecture, popping into different shops, or grabbing a green tea or a pastry. We absolutely loved this part of Kyoto, and were so impressed at how lovingly it has been kept up through the years. If you keep walking upward, you can experience Kiyomizu-dera, a gorgeous shrine pavilion with bright orange and traditional wooden pagodas– one of our favorites. When we were there, many Japanese women had rented kimonos and other traditional dress (available to tourists as well), and were taking beautiful photos in front of the pavilion.
If you're feeling hungry by this point (we certainly were!), there's a variety of options to choose from in and around Nishiki Market, Kyoto's fish market. We weren't able to eat inside the market because it was an absolute mob scene when we got there. Picture a mosh pit confined to a narrow hallway and you get the picture. It's certainly worth walking from one extreme to the market to the other, seeing the various delicious-smelling things the vendors are selling (mostly fish and seafood-related, but not exclusively) and letting the crush of people carry you along. However, in the shopping area around the Nishiki Market there are a lot of food options for you to choose from, also.
From the Nishiki area, you can visit nearby Gion Corner, another place to see traditional architecture and Japanese women in traditional dress, and walk through another old-style street area. Gion Corner is actually quite small, and can be easy to miss! We walked right by it the first time. 
Continuing on, it's an easy/flat walk to the Heian and Nanzen-ji shrines, both of which are absolutely lovely and worth a visit. Nanzen-ji was Alex's favorite shrine in all of Kyoto, and also has a nature park behind it with the remains of an old bridge that you can rest next to, climb, and explore. It was much less crowded here, and we really enjoyed getting to relax a bit and actually enjoy the architecture and sense of peace. We really recommend Nanzen-ji!
For dinner, there's a neat area of Kyoto called Pontocho Alley where you can pop into various izakayas or restaurants. Everything was closed when we were there, but the alley area is very picturesque and several of the menus posted seemed to suggest pretty reasonable pricing.
That night, we stayed at the Uhome Kyoto Tambaguchi Hotel, near the Tambaguchi station on the JR line. This was much more in the "new" part of Kyoto, which is fairly drab and utilitarian. This area is fine to stay in if you are looking to save money on lodging like we were, but if you're looking to splurge you should stay closer to the Higashiyama area.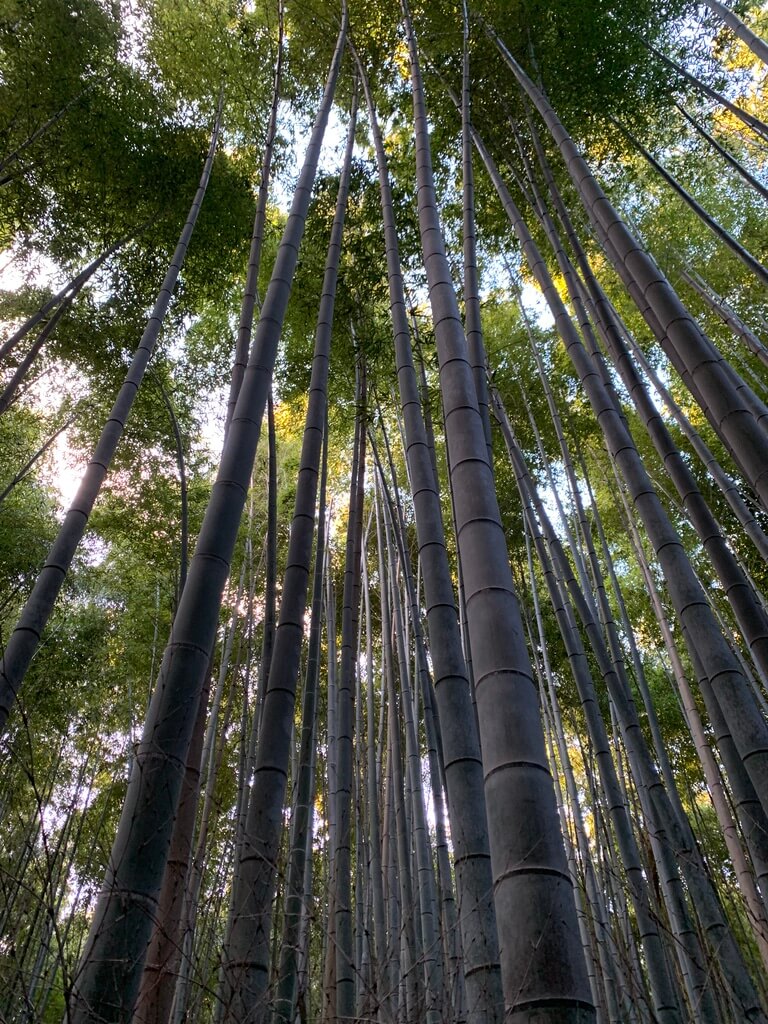 Another before-sunrise day here, but so worth it. We left our hotel once again before daybreak to walk to the Arashiyama Bamboo Forest-– the site Tegan was most excited to see in all of Japan. It is perhaps even more critical to arrive early here than to Fushimi Inari, because there are no camera angles that will block out other people here. If you want the classic shot of you with the beautiful bamboo fronds fanning out behind you, you have to get there early and walk very, very fast from the entrance.
Here are some tips:
The grove part of Arashiyama is not necessarily super close to the entrance.

You will think that you have found it after a few minutes of walking, but keep going! You're not there yet. When we saw our first few bamboo stalks, we thought Arashiyama was the most overrated and/or photoshopped place in the universe, but it just turns out we weren't there yet. You will definitely know when you've arrived, and prepare to gasp in wonder– it really is that beautiful.

Keep in mind that t

he bamboo grove itself is tall in height but pretty small in length–

the path is much shorter than you think it is. While this isn't necessarily a detraction, we mention it because we want to stress that your window for the photos you want is small. The way the path slopes, if there is anyone ahead of you, it is impossible to block them out unless you can position your body in front of them. 

Arashiyama is a huge park, shrine complex, and nature reserve.

The bamboo grove is one (very) small part of it. If you're interested in seeing more nature, shrines, and monkeys, you could easily spend a whole day here. We decided not to, since we had planned to go to Nara later that day, which has similar outdoor activities, but if you have more than 3 days in Kyoto this may be a nice way to spend a day.
After marveling at the bamboo grove, we headed back into town and took the train to Nara, which is almost exactly an hour away on the brown JR line, called the Nara line. 
Fun fact: we hadn't initially planned to go to Nara, thinking that it sounded way too touristy for us. Take it from us– we are SO glad we changed our minds. 
Nara was one of the highlights of our trip, and we really think everyone who visits Kyoto (especially if you have a JR Pass!) should visit. Not only are there adorable deer– that you can pet, give snacks, and snuggle to your heart's content– but the shrines, architecture, and rolling parks and hills are absolutely beautiful. You feel transported back in time in Nara, and even though it is a tourist attraction for sure, it's big enough to not feel too cramped. 
When we arrived at Nara station, we were thrilled to see that there was a full-size grocery store, called Kohyo, on the bottom floor– something we had not seen since leaving the U.S. It also has a hot bar, a sushi bar, and a "a la carte" style tempura station, which makes for a fantastic and inexpensive lunch. We also loaded up on snacks (it is a ground rule in Japan to try as many snacks as you can, of course), refilled our water bottles, and used the restrooms in the tourist welcome center.
From there we walked through the "Main Street" of Nara, which had all the usual tourist shops and a few restaurants, toward the entrance to the park. Once you enter the park, you can pay vendors for a stack of flat, round "deer-crackers" that are the only thing guests are allowed to feed the deer. Apparently they are specially formulated and very low-calorie, so the deer don't gain weight or get upset stomachs. We didn't opt to buy these, but did enjoy watching people feed the deer. With or without "deer-crackers", the deer are super friendly and docile, and very accustomed to people. They'll let you pet them and snuggle them, which is so much fun. We saw a decent amount of baby deer when we were there, which was adorable! They are just sweet as can be, and getting to see them was a huge treat. 
Fun fact: the deer are said to be sacred messengers of the Shinto gods that live in the nearby mountains, and are protected as a national treasure of Japan.
Nara also boasts some beautiful shrines and parklands, such as the Kofuku-ji Temple at the entrance to the park, the Kasuga-taisha shrine, and of course the Tōdai-ji, which houses the world's largest bronze statue of the Buddha Vairocana (about 50 feet tall!) and was once one of the "Seven Great Temples" of ancient Nara. You have to pay to enter this one, but it is absolutely worth it to see the Great Buddha Hall. 
The temples were very crowded when we went because, as we said before, many Japanese people were paying their hatsu-mōde, or first visit of 2020.  Historically, a lot of the land around the shrines was privately owned, but has since become open to the public. You can easily spend hours walking around the various gardens and pathways, some boasting gorgeous views of the surrounding park and town. In short, we can't recommend Nara enough. 
We almost skipped it, thinking it would be too kitschy and touristy, but it was truly delightful. The deer are adorable, and the shrines are a can't-miss, just as awe-inspiring as the shrines in Kyoto. If you're visiting Kyoto, Nara is a must! 
Our last night in Kyoto we stayed at Rest Inn Kyoto, also a very no-frills hotel/hostel in the more modern part of Kyoto and near the Tambaguchi JR station. While we liked it marginally better than the Uhome, they both were really nothing to write home about.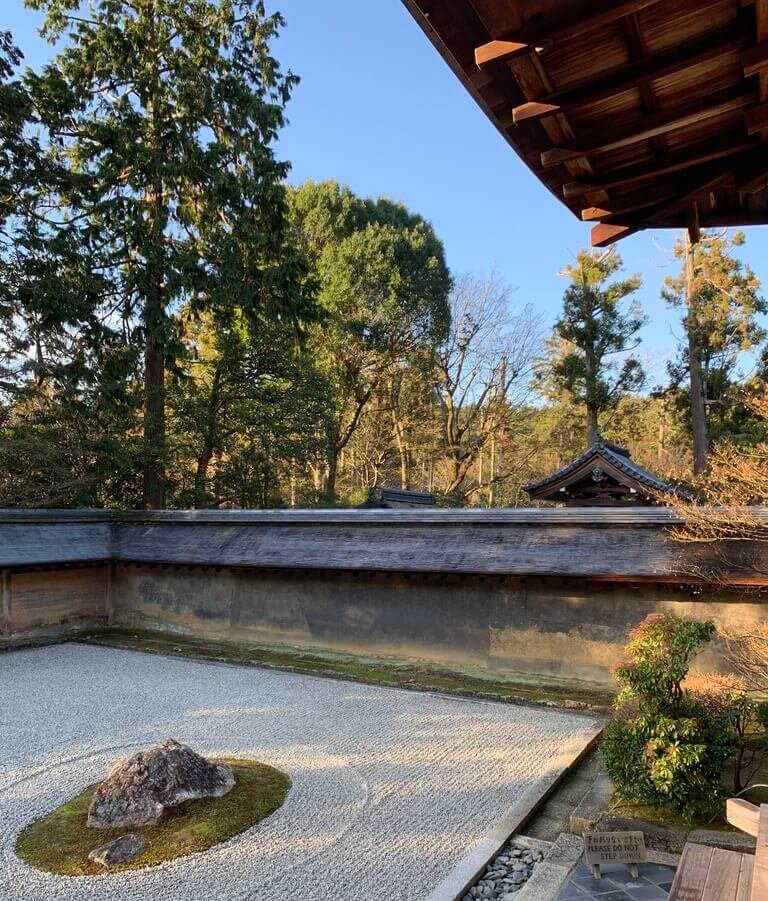 On our last day in Kyoto, we woke up very early once again to make a beeline for the Ryōan-ji shrine. This shrine is very different to other shrines in Kyoto– much simpler and more austere, with beautiful tatami floors, wall hangings, and Zen rock garden (photo at left.) The surrounding gardens were lovely to stroll through, and since we were the first people to visit, it was perfect to explore the quiet grounds on our own.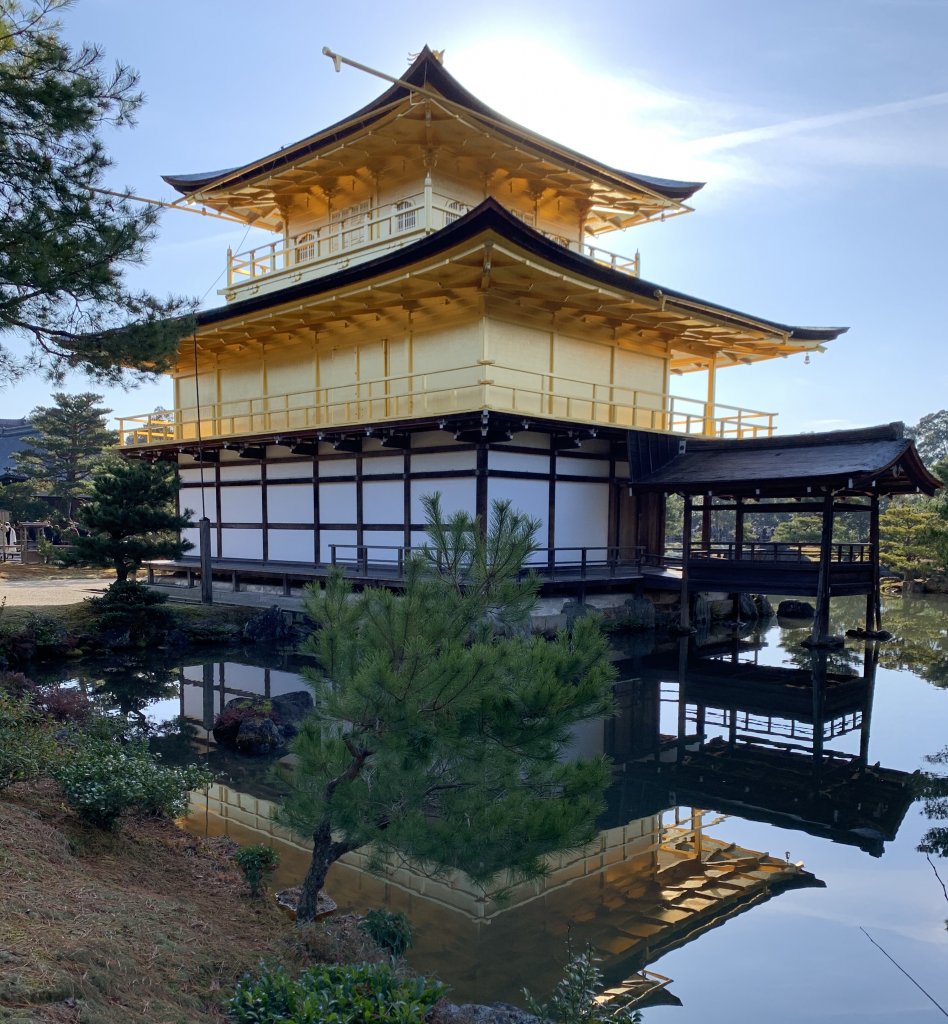 Next, we walked over to Kinkaku-ji, another tourist hotspot and can't-miss spot in Kyoto. Known for its gorgeous gold-leaf facade and a reflecting pool, make sure you visit early in the morning for 2 reasons: you'll beat the crowds (already formidable even very early in the morning) and you get the best photos of the temple reflecting off the water before the sun is too high in the sky. We especially liked the close-up view from behind the shrine.
We had planned to visit the Kyoto Imperial Palace and the Nijo Castle immediately before departing Kyoto. Unfortunately, they were both closed, leaving us a bit at odds about what to do before heading back to Tokyo and then the airport for our trip to Seoul. You can't see either of them over their outside walls if the gates are closed, so make sure you check the schedule prior to going out there. 
The remainder of our day was spent taking the shinkansen back to Tokyo, and then the Narita Express train to Narita Airport. As we mentioned in our JR Pass post, get your Narita Express ticket ASAP, as the trains are reserved seat-only and fill up very fast. The Narita Express is a great use of your JR Pass, and was the last thing we used ours for prior to our 7 days expiring. When we got back from Seoul and had to take the regular subway back to Tokyo, it was much more chaotic, crowded (we had to wait for several trains to pass by before we could get on), and longer transit time.
At last, we landed in Seoul. If you're thinking about visiting Seoul (either by itself or paired with a trip to Japan), check out our "Seoul in 3 Days" Walking Guide! We give you all the tips and tricks for where to go, where to skip, and (most importantly?) what street food to eat. Yum! 
What did you think of our Kyoto guide? Let us know in the comments! 
As always, save our guide for later on Pinterest, below.