Tokyo! Where to even begin...
You could probably spend a lifetime here and not see everything there is to see, but we've compiled walking guides for 5 days in Tokyo that ensure that you see all the highlights. 
Immediately prior to the coronavirus pandemic, we spent a lovely 2 weeks exploring around Japan and South Korea in early January of 2020. Who could have guessed how much everything would change?
Tegan had wanted to go to Japan since she was in elementary school: she attended an international public school that taught its students the basics of German, French, Spanish, and Japanese. One could say this sparked a love of language and travel from an early age, and the bamboo tatami mats, abacus lessons, songs, and elements of colorful pop culture were always something she wanted to see in person. 
Fast-forward about 20 years later, and Hopper (our favorite app for tracking flights! Download for ios here and Android here) notified Tegan in the middle of a Wednesday workday in April that the round-trip for our winter target dates was a whopping $549 on AirCanada. Even better… no weird transfers or layovers, just one brief stop in Toronto. Naturally, we jumped right on that.
We landed at Tokyo Haneda well into the evening, and the process to go through customs, secure our JR Pass, purchase our SIM card, and figure out how to get to the center of the city took a decently long time. (See our guide to making the most of your JR Pass and the Japanese train system here.)
Ultimately, we didn't get into the center of Tokyo until almost 8PM. Right off the bat, we realized something that hadn't really come up in our research, that rather haunted us the rest of the trip. Everything (and we mean everything!) was closed.
Well, except 7/11. 7/11 is never closed.
But jokes aside, we quickly learned that from the last week of December well into the first week or so of January is totally dead in Japan because of the New Year's holiday, which made food and other activities quite challenging. 
Despite the shoulder season (right after Christmas) being far and away our favorite time to travel, Japan may be a big caveat to that. A lot of attractions were closed, in addition to a huge percentage of restaurants, bars, parks, and other things we had wanted to see. Starting with that first night, way more of our meals ended up being from 7/11 than we would've thought, though that was a fun experience overall. But more on that later.
Our first few days in Tokyo, we stayed at Belken Hotel Tokyo. We really enjoyed staying here, as it was one of the cheapest places we found but still super close to Tokyo Station, clean, and comfortable.
Let's go ahead and get something clear, though. Japan is not a budget travel destination. 
We repeat: if you are looking for budget travel, Japan is not it. 
(South Korea and Thailand, on the other hand, rock for this.)
Overall, we found everything to be quite expensive, especially lodging. As we've written about in other posts, we almost always stay in private rooms booked on Airbnb when we travel, and were surprised to see that Airbnb isn't really a thing in Japan. Turns out that the housing crisis is so severe that the Japanese government nipped Airbnb rentals right in the bud several years back, and the few Airbnbs that existed were actually more expensive than budget hotels like Belken. We were definitely not thrilled to pay almost $100 USD per night in Tokyo, and we wish we had known this before booking our trip. 
Day 1: TeamLab Borderless + Akihabara + Ginza
To avoid the temptation of oversleeping due to jet lag, we booked our visit to TeamLab Borderless for our first full day in Tokyo, and headed over there first thing. You can get your tickets here, and you should definitely get them in advance. This place was absolutely worth the hype, and then some. Read our full review and our tips for TeamLab here.
After spending about 4 hours at TeamLab (you will, too– we promise), we were absolutely ravenous. We decided to try out a ramen place we'd heard was known for their vegan/vegetarian ramen option: Kyushu Jangara Ramen in the Akihabara area. Tegan doesn't eat meat, and ramen without pork or a meat stock base can be very hard to find. This place was absolutely delicious, and was one of our favorite places we tried on the trip.
It's a short walk from the Akihabara Station on the JR lines or the Suehirochō Station on the Ginza (orange) line. Once you arrive, you will likely have to wait in line because the interior is tiny. We waited maybe about half an hour, (not too bad), and the food was totally worth it. The clientele was a solid mixture of tourists and Japanese people grabbing a late lunch. The waitstaff takes your order ahead of time, so by the time you sit down inside your food comes out shortly afterward. We definitely recommend adding an extra "egg with a taste" to your dish. Delicious! 
Tip: Japan isn't a particularly vegetarian-friendly country. Tegan eats fish, which was helpful, but it was a lot harder to find food than we thought it would be, especially due to widespread closures due to the New Year holiday season. 
As we said before, we ended up eating a lot at 7/11s, where you can buy pre-made bowls of ramen, tempura, or other Japanese dishes as well as sushi, sandwiches, salads, pork buns, desserts, and other snacks. While this wasn't quite the culinary experience we were imagining we would have in Japan, it was good in a pinch, especially since almost everything was closed.
After lunch, it's fun to walk all around Akihabara, to get your first taste of the total chaos that is walking around Tokyo. The sidewalks were packed, the crosswalks were unlike anything we had ever seen, and the neon lights and billboards were just as cool in person as they are in photographs. 
You can duck in and out of a lot of stores here that sell Pokemon, manga, music, action figures, video games, and stuff like that. We got a bit overwhelmed by the crush of people surrounding us on all sides, but that's Japan for you!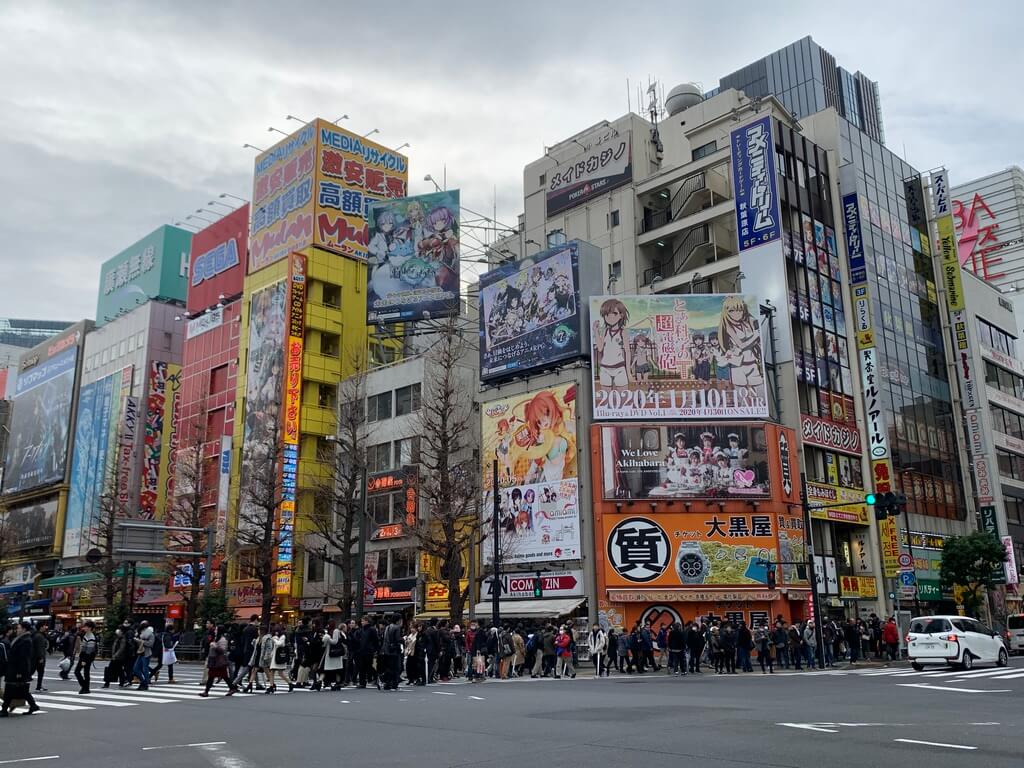 From here, it's an easy walk or train ride back to the Tokyo Station area, or you can explore an area like Ginza. Ginza was one of our favorite parts of Tokyo for its wide, beautiful sidewalks, sparkling building facades and lights, and fancy window shopping opportunities. 
We definitely recommend going to the top floor of the Uniqlo flagship store in Ginza, where you get a fabulous view of the street below and can shop all the original, specialized T-shirt designs, including favorites like Gudetama, famous Japanese art, and more. On weekends they close the main street in Ginza, which is fun to stroll up and down. We stayed here later in the trip, at Hotel Unizo Tokyo Ginza-Itchome, which was a fantastic stay similar to the Belken. However, Ginza is certainly not a budget destination, for food or shopping.
As we mentioned in our JR Pass post, we were planning to head over to Kyoto at around dinnertime, in order to make the most of staying at a ryokan (see our Kyoto post for more information!) Due to the Japanese holiday, we weren't able to get a ticket until almost 10PM on the last shinkansen leaving Tokyo. This really set us back jetlag-wise, and we didn't arrive in Kyoto until very late. Definitely reserve these tickets in advance!

Despite our general exhaustion and the late hour, the shinkansen experience was truly very cool. The sleek, shiny trains (that look like bullets, hence the nickname) travel faster than you can even wrap your mind around, and are so, so comfortable. The seats recline almost all the way back, and there's tons of space for your luggage and to have a comfortable amount of legroom. We ended up falling asleep for most of this trip, given the late hour, and are glad we rode a few more shinkansen during our time in Japan to really take advantage of the experience.
If you're going to Kyoto, make sure not to miss our post! You can click here, or navigate back to our Japan page for tips on trains and the JR Pass, TeamLab Borderless, etc. After visiting Kyoto, we spent a few days in Seoul prior to returning to Tokyo at the tail-end of our trip, which we absolutely loved. See our Seoul guide here! 
For the rest of our Tokyo day guides, read on! 
Day 2: Shibuya + Harajuku + Meguro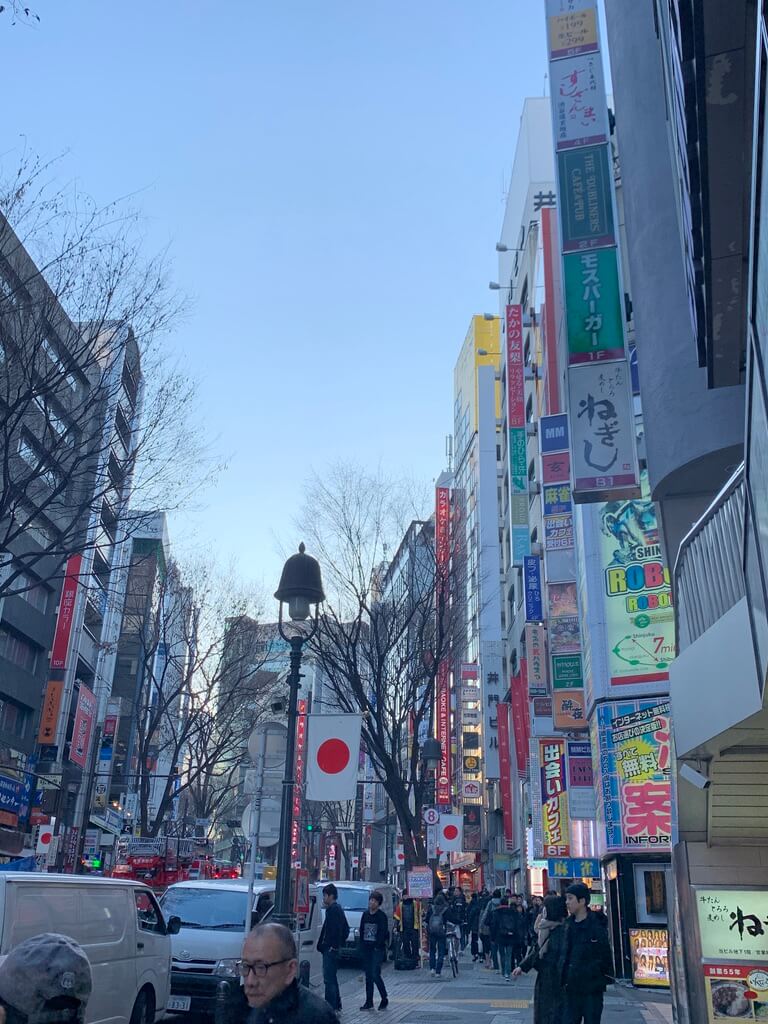 Upon our return from Seoul, we spent the remainder of our time in Japan in and around Tokyo. We no longer had our JR Pass, sadly, so we regularly loaded up our Welcome Suica to take non-JR trains. Since we were paying out-of-pocket for these rides, we tried to walk as much as possible, sometimes covering 15+ miles on foot each day! Tokyo is a surprisingly walkable city if you want to go between tourist areas.  Why not walk… indeed!

On this particular day, we took the train to Shibuya, to see the infamous Shibuya Crossing, best seen from the Starbucks right above the crosswalk. We stopped to say hi to Hachiko, the famous Japanese pup who is definitely a contender for "Best Boy Ever." (If you don't know the story, be sure to read about it, it's a tear-jerker!) 
It's so fun to just walk around here, it has a totally different vibe with the flashing neon lights than Tokyo Station and Ginza, which are a lot quieter. Next we meandered over to Harajuku, which is a super fun, hip neighborhood considered the peak of "youth culture" in Japan, in all its colorful glory.
When in Harajuku, take a stroll around Yoyogi Park, hike up to the Meiji Shrine, and join the crush of people walking down Takeshita Street. Pop into colorful stores, grab a crêpe or fluffy pancakes as a fun snack, and people-watch to your heart's content. 
Since we were visiting around the new year, the Meiji Shrine area was absolutely packed, with Japanese police directing the flow of traffic up the hill. It took us over an hour to walk up to the entrance of the shrine, at which point we unfortunately couldn't go any further. It was very special to approach the shrine alongside so many people going to worship and pray for a healthy and happy 2020, but it is not for the claustrophobic.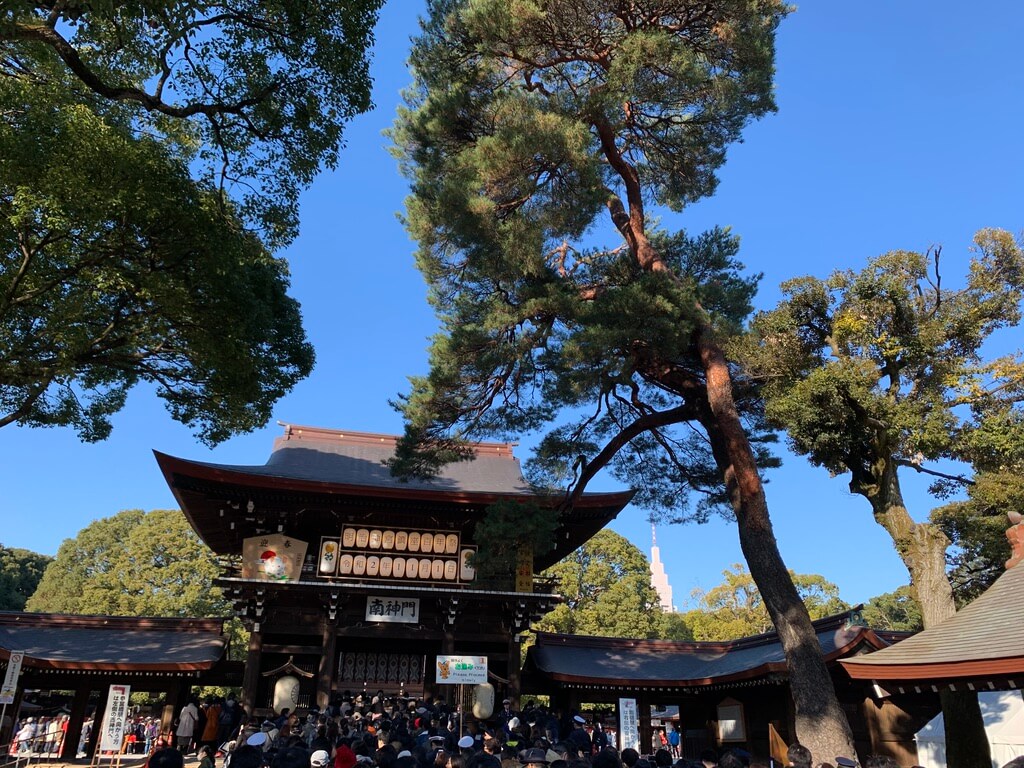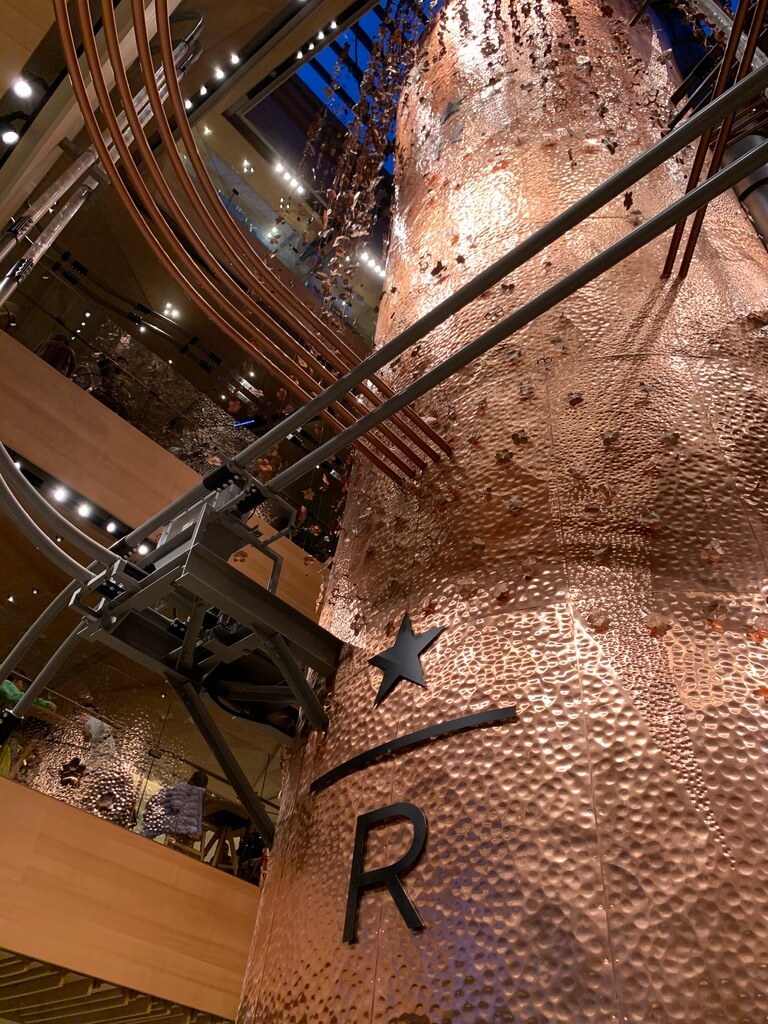 From Shibuya, we walked over to the Starbucks Roastery in the Meguro area of Tokyo. It is a bit of a long walk, but it's a totally different view of Tokyo– mostly residential, with some hip boutiques and stores, but mostly quiet homes and streets that tourists don't usually walk around. We were on the fence about visiting the Roastery, thinking it may be a tourist trap– but we had a blast here and we really recommend a visit. 
The architecture is absolutely gorgeous, with three floors of shiny copper fixtures, floor-to-ceiling windows, a spacious deck space (a bit cold in winter, but beautiful!) and original art displays featuring Starbucks' signature "Tokyo Roast." 
Something we especially liked was that there was no pressure to purchase anything, but there are lots of upscale treats to choose from if you're interested, including pastries, cocktails and a variety of non-alcoholic hot or cold drinks. We didn't end up sampling anything– did you? Let us know in the comments! 
This is also a great place to sit and relax for a bit, taking advantage of the wifi and plush seating. Something to note– in order to go in, you have to first head over to the white building next door (to the left if you're facing the entrance.) There, they'll give you a ticket, and you can look at the screen nearby for an estimated wait time. When they call your number, you walk back over to the Roastery entrance and hand your ticket to the attendant. Once you're inside, you can stay as long as you want. It was fairly crowded when we were there, and we waited about 1/2 an hour. We took advantage of that time to walk around the quaint surrounding area.
After the Roastery, you can make your way back to Shibuya for dinner and a walk around at night, which is a totally different vibe to the daytime. Alex picked out a restaurant in this area to try wagyu beef, a must for meat-lovers! 
The restaurant we visited, Han no Daidokoro Kadochika, was wonderful; we really recommend it! You can try tons of specialty cuts of beef that are truly mouthwatering, and the staff are so enthusiastic and friendly. While not cheap, we found this place to be reasonable compared to other wagyu beef options, and the quality of the beef you get. Wagyu beef is known for having a super soft texture and for melting in your mouth, and this is all certainly true. The restaurant cooks it right in front of you, and then allows you to cook your own. You can pick different cuts or try a sampler. Don't miss it! We recommend making a reservation. 
Next, you can either walk (45 minutes) or take the bus or train from Shibuya Crossing to the Tokyo Metropolitan Government Building. At the base of the tower, there are a set of elevators. An attendant lets you in, and the elevator drops you off at the very top of the tower, where you'll see stupendous wraparound views of Tokyo spread out around you. 
This is a free attraction! Can't be beat. We heard that the lines for this semi-well-kept secret can get quite long, but we didn't have to wait at all when we visited. This building is located in a much more business-oriented part of Tokyo, which was also very interesting to walk around and look at.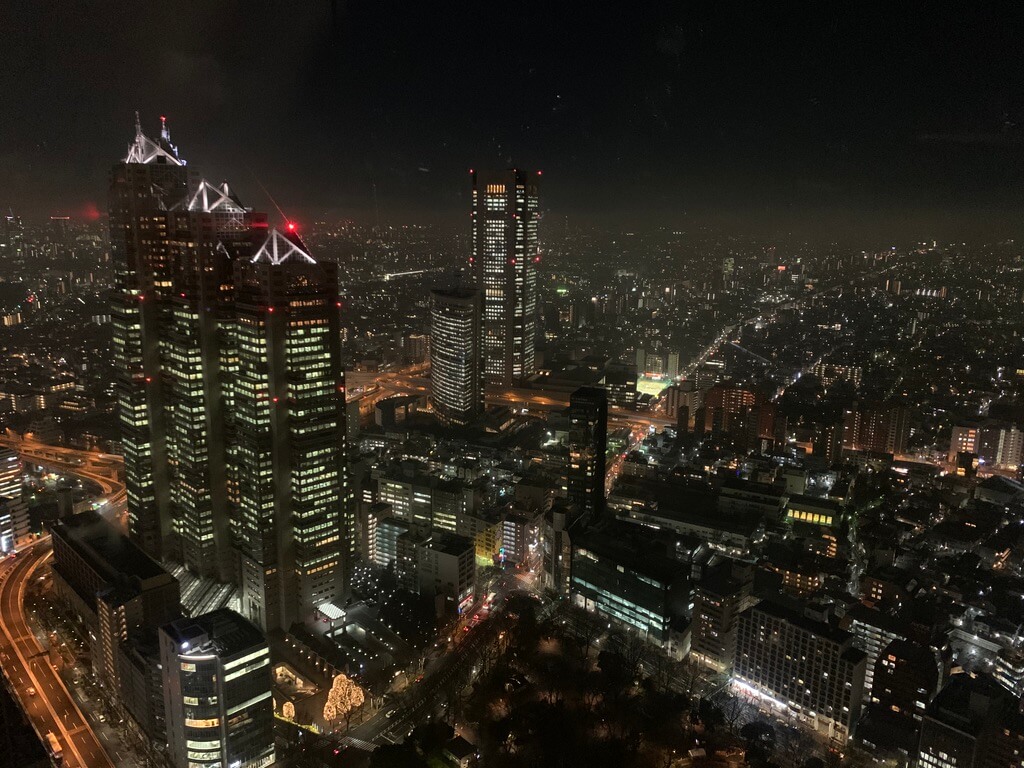 Ueno was one of our favorite parts of Tokyo. It's a beautiful and peaceful park area where you can meander around to your heart's content, but we would first recommend arriving early and making a beeline for the line to enter the Tokyo National Museum. 
You can actually purchase your tickets inside the Ueno train station, at an easy-to-miss kiosk with a sign that says "Tokyo National Museum." From the station, it's a less than 10 minute walk to the entrance, where they will check your ticket and you can join the line to enter the museum. When we visited, we ended up having to wait about an hour in line to enter, despite having already purchased tickets and arriving prior to the museum opening. 
The Japanese public was still on vacation at this point, which could be one reason for the crowd, but we also happened to be visiting when the throne, dais, and ceremonial robes used for Emperor Naruhito's coronation the previous May were on display for a very brief 2-week window. Japanese people around us in line were very, very excited about this– one person saying it was a once-in-a-lifetime opportunity. The Tokyo National Museum is in a beautiful building with several wings and side buildings to explore. We really recommend visiting. 
Outside Ueno Park, if you walk due south, you can enter the Ameya Yokocho indoor-outdoor market area to grab a bite to eat. After the peaceful vibes of Ueno Park, this area immediately felt like we were back in the whirlpool that is the crowds in most of Tokyo! Most of the restaurants were closed when we were there due to the holidays, but we've heard that Yabu Soba and Hakata Furyu Ueno are both very good. A tip if you want to grab a bite here– most of the places we walked by didn't have English menus. 

After lunch or a snack, it's a little less than a 1/2 hour walk to Sensō-ji, the oldest and one of the most lovely temples in Tokyo, located in the Asakusa area. It was built in 645 to honor the goddess of mercy. 
While here, don't miss its marvelous gate, Hōzōmon Gate, as well as the Asakusa Shrine and a few other smaller shrines located nearby. This place was an absolute madhouse when we visited, but we were in total awe of the shrines and other buildings. There was also a bustling vendor area, where we ultimately grabbed lunch, since Ueno didn't work out. Something you should definitely try here are the octopus takoyaki, ball-shaped fried dough stuffed with octopus and other goodies. Yum! 
In the afternoon, we walked back over to Shinjuku, and explored around the area. Nearby, you can visit the Samurai Museum. This is definitely a tourist trap, and it's pricey to enter (about $19 USD each), but has a lot of interesting content on the included tour. 
Full disclosure, we were on the fence about visiting and ultimately only decided to go because it was raining cats and dogs and we wanted a way to get indoors for a little bit to dry off. In summary, if you're really interested in samurai history, this is a very basic introduction, and you can see some cool restored (or reproduced) armor, swords, and other stuff. The tour lasts for about an hour and you can take some cheesy photos in samurai armor before you leave. 
Shinjuku is also a must-see at night, when all the neon signs are lit up in all their glory, so you should definitely stay in the area until nightfall and meander around for a bit! There are so many side streets and interesting restaurants/bars to check out that it's easy to spend hours wandering. 
Day 5: Tsukiji Market + Ginza
Sadly, our last day in Tokyo! 
For a last recommended site to see early in the morning, start off exploring the Tsukiji Market area and visiting the outer market. The market originally opened in 1935 and was at one point the largest in the world! Here, you can explore rows of vendors selling housewares, snacks, and, of course… fish! The inner market moved to its new home in Toyosu (eastern Tokyo) in 2018, as well as the fish auctions (if this is something you're interested in seeing, see here for more information and to reserve Tuna Auction Deck tickets. Apparently people start lining up at 3:30 AM!) 
Vendors sell millions of dollars worth of fish and seafood here every day, which is wild! We didn't visit Toyosu, but did really enjoy the outer market at Tsukiji. We purchased some cute bowls and plates for our apartment back home that bring back fun memories every time we use them, and had a really nice time exploring all the different housewares and stalls. There are lots of snacking opportunities here, too, and different treats to explore.
Since it's so close by, you can spend the rest of the morning exploring around Ginza. We especially liked doing this since we had primarily seen it at night, and popped into a few 7-11's to purchase our last-minute snacks to take home to share with our family and friends.
To finish up the day prior to heading back to Narita, we decided to rent coin lockers at Tokyo Station to store our luggage until it was time to leave. We super recommend doing this whenever you're in transit. There are tons of lockers available in the station, and you can use your Welcome Suica to pay for a rental. You can even leave them overnight! This was a lifesaver on multiple occasions, and prevented us from having to cart our carry-on around while sightseeing.
From Tokyo Station it's a short walk to explore the Marunouchi and Nihombashi areas of the center of Tokyo, which are a fascinating blend of "old-meets-new" traditional architecture and huge skyscrapers. You can then walk around the Imperial Palace grounds nearby. Today's Imperial Palace still sits on the original grounds of the Edo-jo, the Tokugawa shogunate castle. Most of the area is off-limits, due to the fact that the emperor still lives here, but if you want to take a tour you need to make a reservation with the Imperial Household Agency here. 
We were not able to join a tour, but did enjoy vistas of the palace, grounds, and two beautiful bridges (Niju-bashi and Megane-bashi) and watchtower. It is free to visit the Imperial Palace East Garden, but it was closed the day we visited.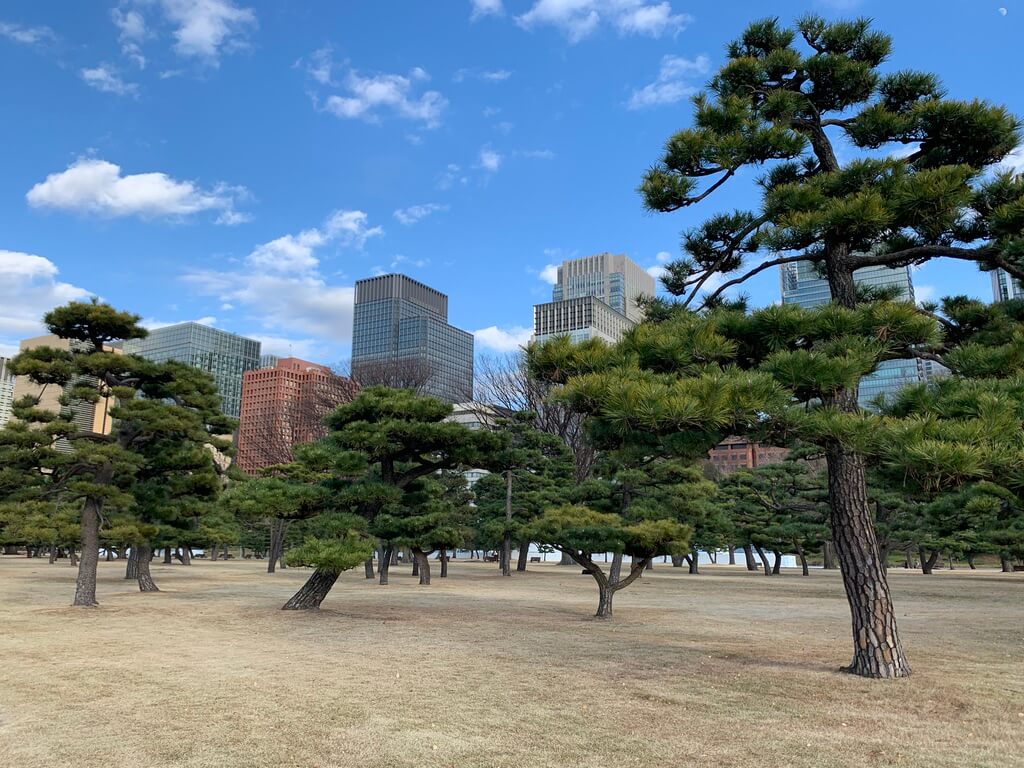 We made sure to budget plenty of time to get back to Narita airport from Tokyo Station, and you should, too! Since we no longer had our JR Pass, we took the local trains to Narita, which took much longer than the Narita Express. 
One last tip: make sure you get on the train going to Narita Airport, NOT Narita town! 
Have you visited Tokyo? What off-the beaten-path recommendations do you have? Do you have any questions that we didn't cover? Let us know in the comments!
As always, save this guide for later on Pinterest, below!