Our first (and so far only, though we hope to change that soon!) foray into Africa was our trip to Morocco in January of 2018.

Morocco is a lively, vibrant country full of colors, scents, music, and people everywhere, and we loved being enveloped by it all. Visiting Morocco in winter was delightful; it is quite temperate and we sometimes could even walk around in just long-sleeved shirts.

As always, we loved that there weren't many tourists around, and that lodging and other activities were a bit cheaper due to it being shoulder season. We are excited to share our 12-day "road trip style" itinerary with you– we didn't rent a car in Morocco, but the country has one of the best train systems we have ever seen, which made traveling between cities a breeze.

Read on for tips and tricks for ringing in the New Year in Marrakech, a day trip to lovely Essaouira, camping in the magnificent Sahara Desert, the road through the Atlas Mountains to Fez, urban living in Rabat, and a night in Casablanca.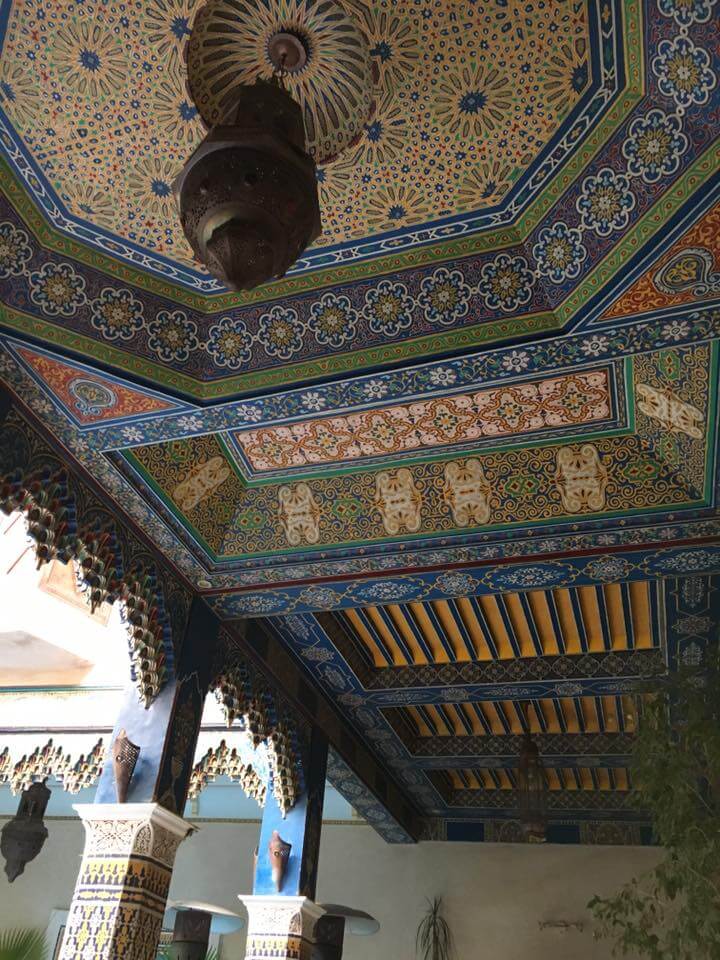 Morocco is known for its lovely riads (traditional houses with an interior courtyard, see photo at left), and we spent the first night in a riad right near the Djemaa el-Fna, or the main square of Marrakech. This is where all the hustle and bustle is, with street vendors hawking their wares, donkeys pulling carts, and various shops and beautiful cafes lining the square.  There are so many to choose from for your inaugural mint tea!  Moroccan tea is a specialty of hot, steeped fresh mint and laden with sugar that we still dream about to this day. So delicious. 

Tip: the streets in Morocco's medinas (the older quarters of each city) were initially an incomprehensible maze to us. If your accommodation gives you a map, pay very close attention to big landmarks, as it is very easy to get lost in the winding streets of these medinas. The first few times you go out and about from your lodging, designate some memorable landmarks that you can use to guide your way. We bobbed in and out of a few stores on our first day, but are glad we left our shopping for another day for the most part. We visited the amazing Madrasa ben Youssef which has one of the best examples of intricate, Islamic architecture in Morocco, and later ate dinner at the fish market inside the Djemaa. Beware of upselling if you are eating here, but the food is delicious and fresh and worth trying at least once.
We spent our second day checking out many of the must-see locations in Marrakech, so we started our day off early with a visit to the Dar si Said Museum, followed by the Bahia Palace and the ramparts at the Badi Palace. The Dar si Said houses a variety of opulent displays, as well as gorgeous cedar-carved walls. Housed in an old palace, the architecture is just as fun to explore as the artifacts in the museum! The Bahia Palace dates back to the 19th century, and was expanded in a piecemeal fashion throughout the years, leading to a somewhat unusual layout. The Badi Palace dates all the way back to the 16th century, though most of it is in ruins now, so the ramparts are the coolest part to visit here.
Next, we visited the Saadian Tombs.Tip: if we could go back and do this again, we would've done it first thing– the line was quite long and we wasted time waiting in line when we could've likely walked right in had we visited right when it opened. However, you absolutely cannot miss visiting the tombs when you come to Marrakech, the intricate architecture was jaw-dropping. We finished the day visiting the Koutoubia Minaret, a gorgeous structure right near the Djemaa.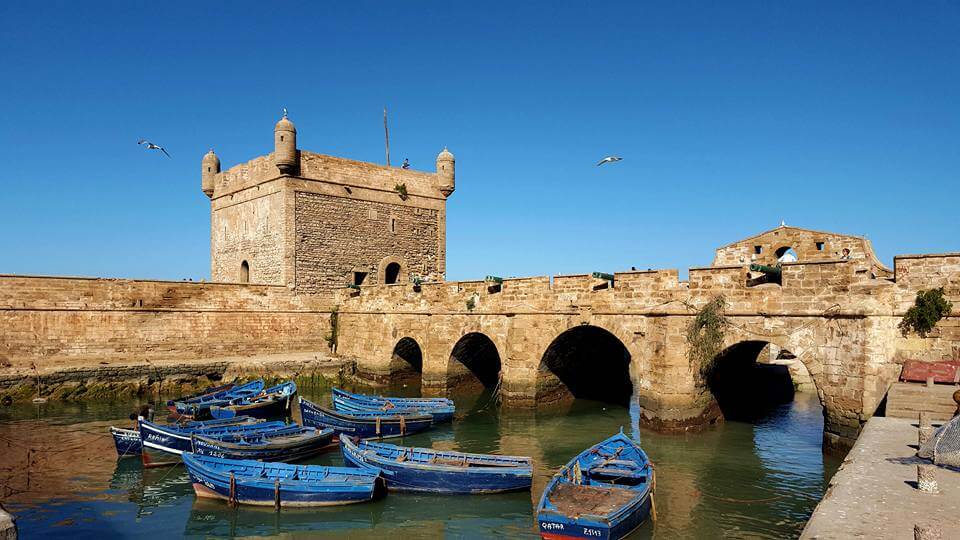 We had read previously about day trips to Essaouira and thought "why not?" (hehe)
While you could definitely spend longer than a day exploring this coastal gem, we think Essaouira is perfect for a day trip. It is an absolutely beautiful place to visit, and we highly recommend it, as it has a more relaxed vibe than Marrakech and you can easily see why the locals are so laid back.
It is cheap and easy to take the SupraTour bus, which departs from Marrakech Central Station (Gare de Marrakech) starting at 9AM for about $7 USD each way. However, Tip: Buy your bus ticket in advance! We highly recommend buying your ticket the day before if possible, as the buses fill up very quickly and once they are full they do not run any more.
Since we didn't know this when we went (boo), all the buses heading to Essaouira were sold out when we arrived at the Marrakech train station. Luckily, we happened to be standing next to another couple in the same boat as us, and we split the cost of a cab to drive us the ~2 hours. We obviously do not recommend this, as it cost about $20 USD per person (so $40 for the two of us), as opposed to the much more economical SupraTour bus, but it is an option if you can't get a bus ticket or prefer to go by car. Right when we arrived in Essaouira, we made a beeline for the bus station and bought our return tickets for that night– make sure you remember to do this as well. It will help you structure your day, and you won't have to worry about being stranded in Essaouira overnight.
On the way there make sure to look out the window as…. Tip: Don't miss the goats climbing trees! These adorable goats are a crucial assist in the production of argan oil, and climb trees to eat the berries from the argan trees, the first step in the process.  The next steps in the process are a little icky, so we'll leave the rest up to your imagination…
In Essaouira, you absolutely can't miss:
Walking around the medina, it is a lot smaller than Marrakech's but so charming!

The beach (Game of Thrones was filmed here) and perhaps some freshly-caught fish for lunch

The port area, snap some pictures of the blue boats

Scaling the ramparts and exploring the cannons, enjoying vistas of the serene sea 

Essaouira is a good place to purchase argan oil, if you're interested. There are a variety of woman-owned cooperatives to check out. 
Day 4: New Year's Eve, Marrakech-Style
In a first for both of us, we decided to pamper ourselves and made an appointment for a couples' spa. Tip: Despite not being traditional "spa people," we really recommend doing this in Morocco. Here, hammam-style baths and massages are much more economical and attainable for average people like us than they are back home, and we paid about $80 USD each for a 4+ hour couples' spa experience at Heritage Spa Marrakech.  A European couple we talked to in the waiting area said this package would have costed at least four times the price back home so we were impressed.  We started out with a delicious tea and snack, and changed into bathrobes. We then were given paper undergarments, and proceeded to the hammam, where two women vigorously scrubbed away a frankly appalling amount of dead skin from every inch of our bodies.  Don't be timid, because the women who scrub you certainly won't be!  They first used a black soap scrub with argan oil and bitter orange, and then a cleansing mask with rhassoul clay. The package also included a heavenly full-body massage and a facial. Today also happened to be New Year's Eve, so it was nice to have our impurities scrubbed away prior to ringing in the New Year.

As for "ringing in the New Year" in a country that doesn't drink… we were not sure what exactly the night would hold. We figured hanging around the Djemaa was a good idea, and it was an absolute blast. Everyone was out and about– singing, dancing, lighting candles and small fireworks, and drinking a variety of juices and smoothies. We joined in, and climbed to the roof of our riad to watch the clocktower on the big minaret strike midnight, toasting 2018 with our fresh-squeezed orange juice. 
Days 5 through 8: Merzouga & the Sahara Desert
We woke up very, very early on New Year's Day to join our Sahara Desert tour with Viajes en Marruecos. Our guide's name was Hassan, a native of Merzouga, one of the main towns in the Sahara Desert region. In an interesting turn of events, he spoke conversational Spanish (self-taught)… and absolutely no English. Unclear how that little snafu happened, but Tegan speaks Spanish fluently and Alex speaks it well enough, so we made do. Hassan was a kind, patient, and funny guide, and we had a great experience with the Viajes tour company. Our 4WD vehicle was a bit cramped with Hassan, us, and the Spanish couple who joined us for the trip, but it was worth it for the much-lower cost.

Tip: We really recommend asking your tour group to pair you with enough other people to fill the car, as they will give you a much better price and (in our case) maybe even throw in some free meals. The tours can be pricey, and while you can price haggle over almost everything in Morocco we did not attempt to do that for this excursion. We had a fantastic experience and want to stress how pleased we were that there were absolutely no surcharges, touts, extra charges, or anything out of the ordinary– which unfortunately is fairly common in Morocco. We paid about $300 USD for the all-inclusive 4-day trip, which included food, transportation (ultimately dropping us off in Fez), hotels, attractions, and Hassan's tip. We were very pleased that our driver only took us to the destinations pre-arranged, and did not stop at any shops or places where guides receive kickbacks.
We expressed interest in purchasing a Moroccan rug, and only then did he take us to a friend's rug shop (really more of a rug emporium: a vast warehouse in Merzouga with every pattern imaginable at bargain-basement prices. We paid less than $100USD for an enormous hand-made rug!) Which leads us to our next Tip: Don't buy rugs in big cities if you can avoid it. A rug shop in Marrakech would charge approximately 3 times more than Hassan's friend in Merzouga.  
We departed Marrakech and made several stops, first to see the Dades Gorge in the High Atlas Mountains, via the TiziN'Tichka road. On the side of the mountains, you could see Berber villages and farms. We then stopped at Ait Ben Haddou, a stupendous UNESCO World Heritage site, where you can hike all around a kasbah where many movies (like "Lawrence of Arabia", "Gladiator" and others) have been filmed. We then stopped briefly in Ouarzazate, known as the film capital of Morocco, and then proceeded further into the Atlas Mountains via the Highway Thousand-Kasbah. Note: if you need cash, the best place to get it is in Ouarzazate. We had trouble with ATMs in Marrakech being empty, and once you get to the Sahara there are no ATMs to speak of.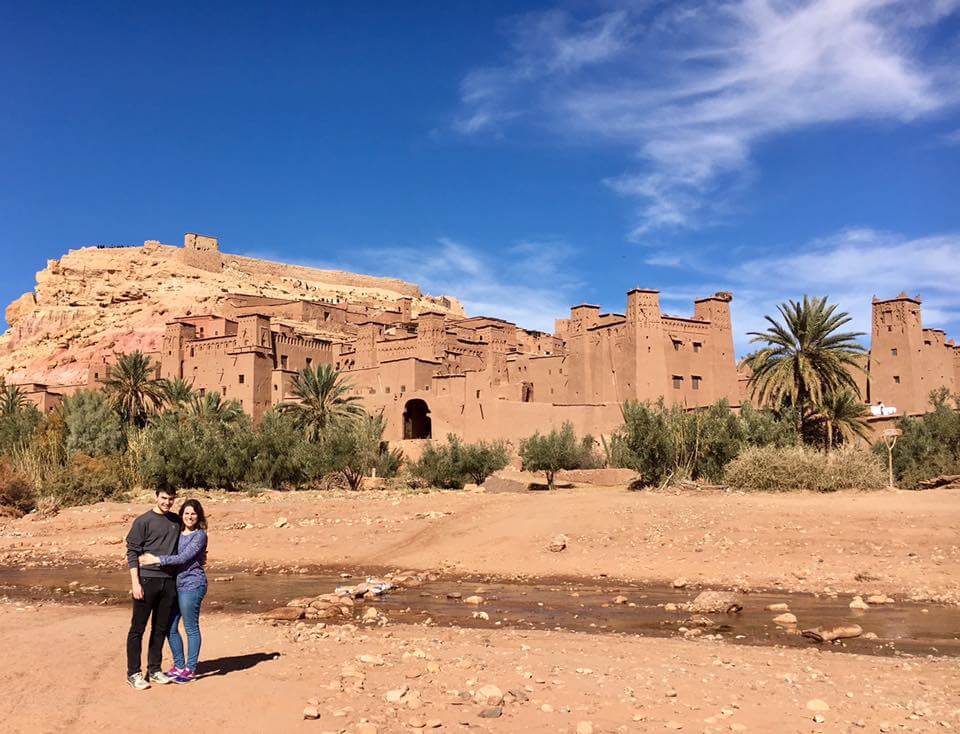 The next day we continued driving through the mountains, stopping at the Todra Gorge and then continuing to Merzouga, the entrance to the Sahara Desert and our first vista of the infamous Erg Chebbi dunes. We boarded our camels, and proceeded to trek far into the dunes, stopping at the camp. We were able to see the sunset here, which was spectacular, and spent a beautiful afternoon sand-boarding down the dunes, hiking around, and chatting with the Berbers that set up the camp. Tip: Make sure you bring a LOT of layers here. We ended up sleeping in our coats, underneath a pile of blankets. The desert is positively freezing at night.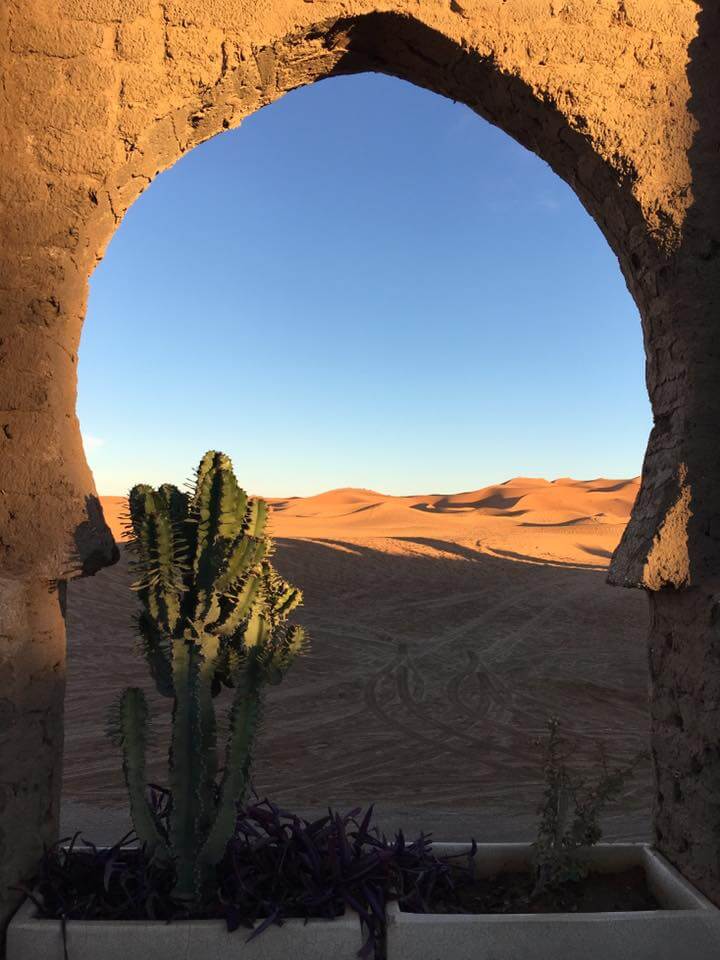 We woke up early the next morning to see a beautiful sunrise, then rode our camels back to town and headed back to Merzouga. We spent the day going around with Hassan, four wheeling over some small dunes, choosing our rug at his friend's shop, and stayed at an amazing hotel overlooking the dunes. Since it was low season, there was almost no one there and the dinner buffet was delicious.

Departing, we drove through a massive palm grove in the Draa Valley and back into the mountains, stopping in the ski resort town of Azrou, where monkeys wander right onto the road asking for snacks. Tegan found this abjectly terrifying, but they seemed to like Alex at least. Hassan dropped us off in Fez that evening, culminating an absolutely wonderful adventure. We very, very seldom take tours other than the free walking tour variety, but we wholeheartedly recommend booking a tour for your time in the Sahara Desert, and Viajes en Marruecos was a great choice for us.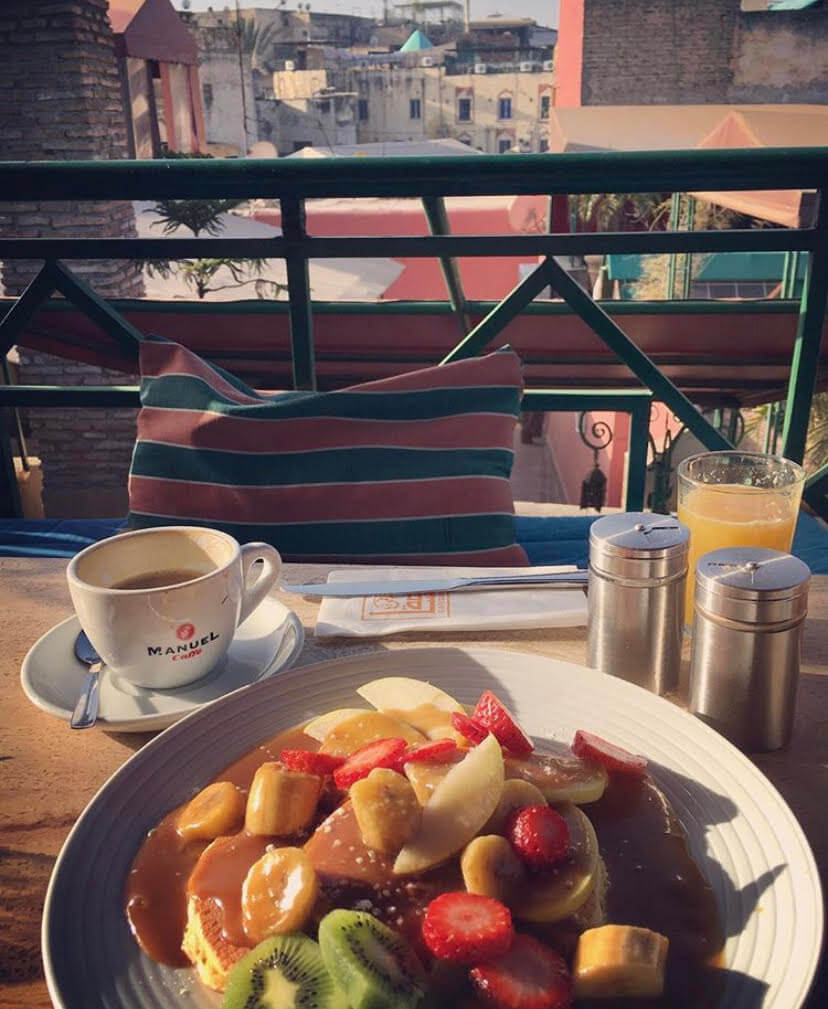 We started our day with a huge breakfast special at Cafe Clock. While admittedly a bit of an expat-trap, the food was delicious and you receive a coffee, fruit, and main for a totally reasonable price ($4 USD for a big breakfast.) We especially recommend the pancakes topped with caramel and fresh fruit… Tegan's life was forever changed. 
It is so easy to submerge yourself in the meandering streets of the Fez medina and not emerge for hours, but in order to see everything it's best to get your bearings (once again, memorize some landmarks) and trek off from there. We found Fez to be quite different to Marrakech, in that there were less tourists and the medina is not as well kept. To better understand Fez we went on a free walking tour that took us first to the Madrasa Bou Inania, a very old school with gorgeous tiling. Next, we visited the tanneries (Tip: the smell here is very strong, make sure you have a kerchief or something to cover your nose and mouth), the al-Attarine Madrasa, and the Zaouia Moulay Idriss. In the evening, we went to visit the famous Blue Gate and had dinner at a small hole-in-the-wall almost right underneath it. We also walked by (but were unable to enter) the Quaraouiyine Mosque.
On Day 10, we walked all around the "new Fez" area (Fez el-Jedid), as well as the Dar Batha Museum and the Royal Palais. Tip #11: get to the Royal Palais early, despite not being able to go in you still want to visit so you can get a photo in front of the gorgeous doors.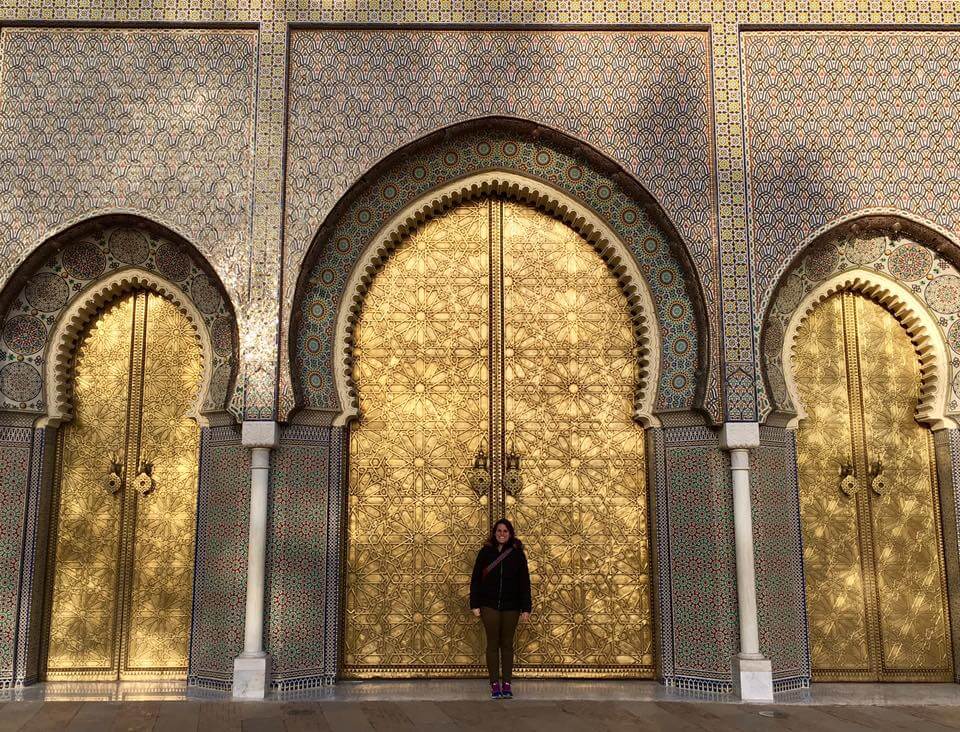 From the Gare de Fez, we took a train to the capital city, Rabat. Tip: "splurge" on first-class train tickets. They aren't much more expensive (at all), and each car seats 6. There are gorgeous picture windows that you can look through, and you can spread out a bit more. The trains in Morocco are SO nice– we really don't understand why more tourists don't take advantage of the excellent trains here!  It's so quick, easy, and safe to ride them and they're way nicer than trains back in the U.S. for sure.

In Rabat, we stayed in the "old town," in a gorgeous riad tucked away in the heart of the old medina. We trekked all around the area, exploring the various sites nearby, and walked out to the Mausoleum of Mohammed V, truly a must-see for its sheer opulence. Rabat is definitely a city of contrasts, with a modern, European-looking city center with the hustle and bustle expected of a national capital, and the old medina closer to the waterfront. We loved the cafe culture in Rabat and had a great time just walking aimlessly and people-watching in the sprawling parks and wide boulevards. The architecture is beautiful here, a mixture of traditional Moroccan riads and more colonial-style houses.
On Day 12, we walked out quite a ways to the Chellah, old Roman ruins that are just as nice as the ones in Italy! While it is a bit out of the way, Chellah is worth a visit and the ruins are in great shape, though primarily inhabited by cats these days. On the way back (a hike on foot), we stopped at the Royal Palace, where we were able to check in with security to see the facade of the palace. We're not sure we recommend this– as you can't see much and they hold on to your passport for a rather uncomfortably long time.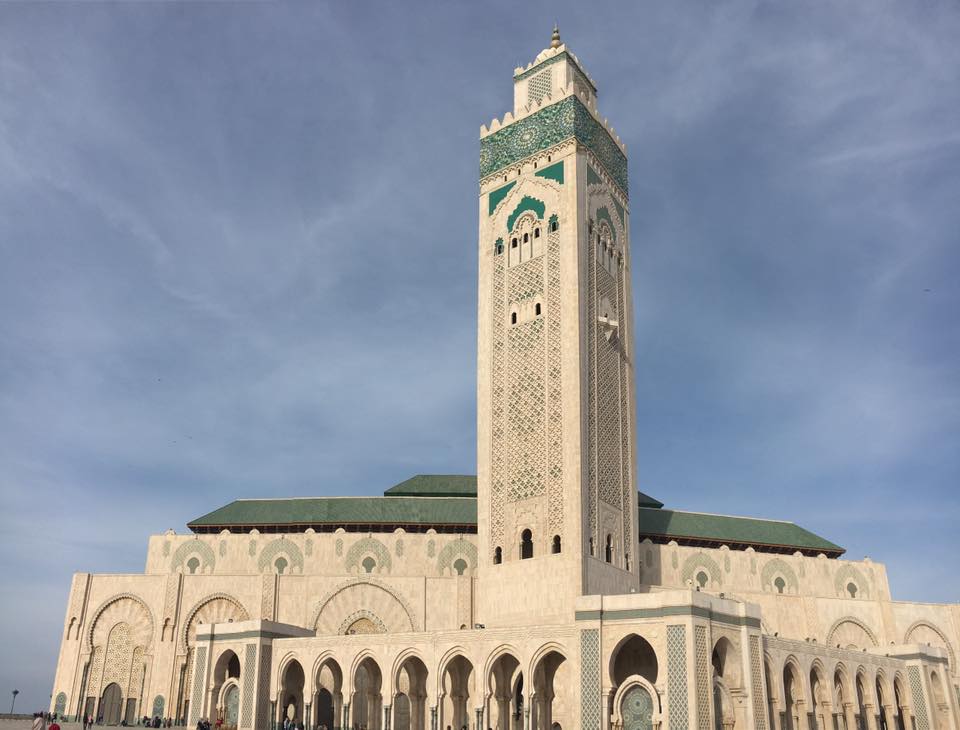 From Rabat, we took the train to Casablanca, our least favorite part of our trip and a city we honestly do not recommend. We were only there for a day, and that was more than enough. The city's main draw, Hassan II Mosque, is, admittedly, spectacular, with a very impressive tourist infrastructure and regular tours departing in all languages. We also enjoyed walking around the Quartier Habbous. However, we found Casablanca to feel much less secure than other parts of Morocco. We were followed a few times, and we found the taxi drivers completely unreasonable– we were kicked out of taxis twice for insisting they turn on the meter, which is commonplace in Morocco to avoid being ripped off. Rick's Cafe from the Casablanca movie is also not worth going to– they only let you in if you buy something in advance, not even to see it. We just didn't feel quite at ease in Casablanca, unfortunately. 
Day 14: Last day in Marrakech
Returning to Marrakech after seeing so much of Morocco was definitely an odd and comforting feeling at the same time, especially because we stayed near the Djemaa again. We spent the last day walking around the tranquil Jardin Majorelle and the Menara Gardens, and getting some last-minute gifts in the medina. From there, we departed, flying back to Casablanca and then back to the U.S. 
If you need to take a taxi,

insist they turn on the meter before you depart.

Many cabbies will not do this unless you force them to, and will then charge you an outlandish fee, sometimes 10 times the correct amount. We seldom took taxis as we felt fine walking around most places, but did sometimes need a taxi, and forcing them to turn on the meter gave us a lot of peace of mind. If they won't turn it on,

get out of the cab.

Another note on cabbies, they will often stop and pick up other passengers while you're in the car, if they're going the same direction as you. This is normal. If you're staying in a hostel and want to take a cab, it's helpful to ask at the front desk how much it should cost to go to x or y place as a baseline. 

We know people say this all the time, but

vendors truly do expect you to haggle

. It makes Tegan uncomfortable, but Alex enjoyed it and it is a good way to be a bit like a local. Many vendors seem to think it's fun… surprising, we know. 

Some recommended souvenirs: 

A Moroccan rug is a timeless, gorgeous piece of artisanry that you will have forever. Vendors can vacuum-seal and pack it for you so it fits in a carry-on.

Plated lanterns or tea-light holders are small and come in lots of different colors  

Dried fruits and nuts, including kiwis, figs, dates, etc. are absolutely delicious and a great thing to bring home with you. They're also super cheap; much cheaper than similar products in the U.S., for example. Many merchants can also vacuum-seal these for you to maintain freshness.

Spices are a similarly neat thing to bring home that won't break the bank, especially harissa.

Argan oil is often a bit of a rip, so make sure you buy it from a reputable store if you're interested in bringing it back with you